Arsenal FC - Emirates Stadium

Stadium Info
The Emirates has a capacity of over 60,000 making it the second largest league football ground in the country. The stadium is comprised of four tiers although the middle two are very small and purely for club members and executive box holders. There is also an underground car park for staff and any commercial vehicles that need access. I was privileged enough to park in here when shown into the ground to take photos.
Away Fans
Up to 3,000 visiting supporters can be accommodated and they're housed in the lower tier of the south east corner of the stadium. Cup matches will see bigger allocations given, if required. The tickets, and food/drink within the ground, are pricey. An exception is made for the League Cup, when the home side often vastly reduce the admission price to ensure a greater attendance (tickets sometimes available for as low as £10).
Stadium Layout
Emirates Stadium seating plan: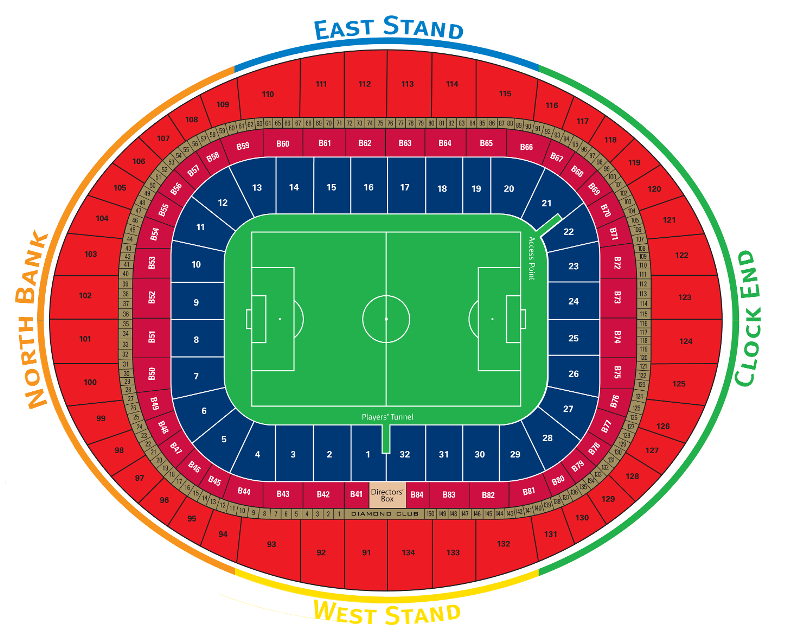 Where To Drink
The Drayton Arms is away friendly, and is usually absolutely chocker on a match day with fans spilling out onto the streets around it. There's usually a couple of burger vans there, too, to keep the blood-sugar levels up.
Another option is to drink around Finsbury Park tube, to the north of the ground, where The Blackstock and The Twelve Pins (both easy to find as soon as you come out of Finsbury Park tube station) are both welcoming of home and away supporters, and are not much more than a 10 minute stroll away from the ground.
Parking
Parking is almost impossible to find around the stadium. Permit holder signs adorn the lamp posts of many a street and to be honest, unless you're willing to pay £8 to park in any of the near by 'football' car parks, travelling in by tube always seems to be the best option.
Driving to Arsenal - Emirates Stadium but need a car? Try Enterprise Rent-A-Car London
Directions
Get directions to Emirates Stadium from your house by entering your post code or location below:
By Train
The nearest / closest train station to Arsenal's Emirates Stadium is Drayton Park, which is about 150 metres from the ground. However, the station is closed on weekends and on match days so the only use it will be to you is if you're going to pick up match tickets or do the stadium tour.
The nearest tube stations are Holloway Road and Arsenal, which are on the Piccadilly line. Both of these are around a 5 minute walk from the stadium. The other stations serving Ashburton Grove are Finsbury Park, roughly ten minutes walk away and served by both the Victoria and Piccadilly lines, as well as suburban rail services; and Highbury and Islington, also approximately ten minutes away, which is served by the Victoria Line and the North London Line.
The Games To See
Rivals - Tottenham Hotspur, Man Utd, Chelsea