Swansea City FC - Liberty Stadium

Stadium Info
The Liberty stadium has an all-seated capacity of 20,532. The clubs main stand is off to the visiting supporters right in the west stand. There are no bad seats in this stadium and every section has a completely unobstructed view of the action. The more vocal fans sit in the east stand toward the north end.
Away Fans
Visiting supporters are situated in the north stand behind one of the goals where up to 3,500 fans can be accommodated. The leg room and views from this area are excellent and as you'd expect from a stadium as new as this, the facilities and refreshments are up to scratch. There are no away tickets available on the day of the game so please remember to purchase yours in advance.
Stadium Layout
Liberty Stadium seating plan: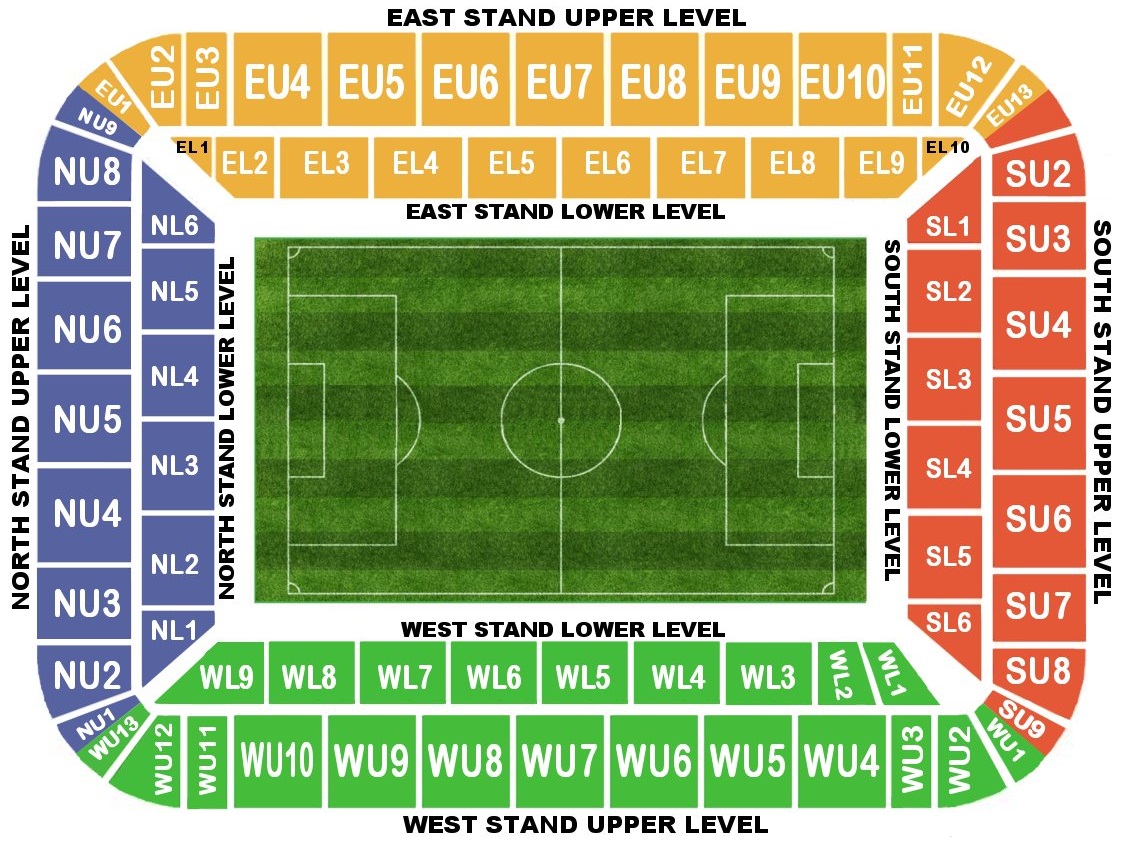 Where To Drink
The nearest pub is the Morfa Parc which is just opposite the South Stand. There are a lot of home supporters who go there for a pre match and post match pint. However there is very reasonably priced food there and being so close to the stadium it allows time for you to fit in an extra beer or two.
Opposite Morfa Parc is Frankie and Benny's which allows home and away fans in. Their meals are priced at between £12 and £15 per head, but it is worth the extra cost as the food is excellent. Opposite the stadium and over the dual carriageway there is Pizzeria Vestivio which is a lovely Italian restaurant offering stone oven cooked pizzas.
Parking
Street parking is available within a short walk if you arrive at the stadium early enough. The club also operate a park and ride service charging £5 per car including the bus trip. Do be aware of resident only sections if you choose to street park but this option does seem to be a favourite of some fans as it appears to be the quickest option for escaping afterwards.
Need cheap and convenient parking near the stadium? Rent a local resident's driveway and book Liberty Stadium parking with YourParkingSpace.co.uk
Directions
Get directions to the Liberty Stadium from your house by entering your post code or location below:
By Train
The nearest / closest train station to Swansea City's Liberty Stadium is Swansea Central. Swansea is well-served by both Arriva Trains Wales and First Great Western with hourly services running from London Paddington and Manchester Piccadilly.
To walk to the stadium, turn right out of Swansea Central and continue up the High Street past the Palace night club and the Church on your left. When you get to the crossroads turn right again onto Neath Road and continue on past Mamma's Pizza and the havod housing offices. You will eventually get to a roundabout and the stadium is just to the right.
The Games To See
Rivals - Cardiff