Plymouth Argyle FC - Home Park

Stadium Info
Home Park has been transformed over the past 10 years into an all seated stadium. Three of the stands were demolished and completely rebuilt in 2001 leaving only the grandstand as part of the original stadium. The terracing at the front of this stand was replaced in 2007 with seating although only the rear of the stand is covered. There are no bad views in this stadium and once development starts on the grandstand it could be turned into one of the best grounds in this division. The clubs current financial difficulties would appear to have put paid to any development any time soon however.
Away Fans
Up to a maximum of 2,000 visiting supporters can be catered for and they are situated in the Barn Park end which is all-seated and covered. The general allocation however is more likely to be approximately 1,500. As this is a relatively new stand, the facilities, refreshments outlets and views of the pitch are very good. The concourses underneath the stadium can get a little cramped at half time but no more than at many others in this division.
Stadium Layout
Home Park seating plan: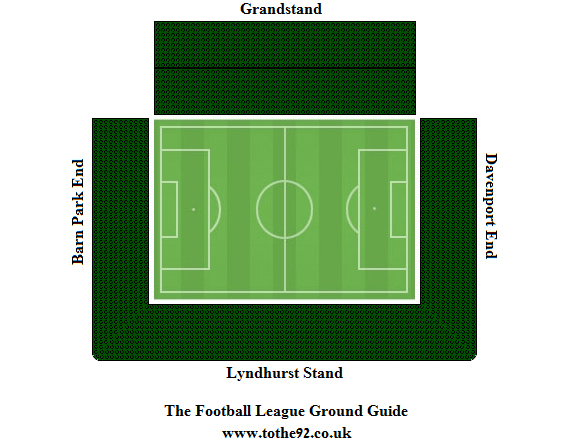 Where To Drink
Wetherspoons pub, The Britannia, is about a 10-minute walk from the stadium but it does get busy on match days, with supporters queuing to get in. Entry is controlled by door staff.
Near to the pub is a van selling pasties and pies which are definately worth a try. Opposite the Britannia is the Embassy Club but this is best avoided by away fans whilst The Pennycomequick is on your way to the ground from the train station.
Parking
There is a large car park on site at the stadium. I advise arriving early though as the first people in are generally the first ones out. Street Parking is available but there isn't a lot in the immediate vicinity. Again, an early arrival is the best bet but you wont struggle to find a spot if you're willing to walk 10 minutes or so back too the stadium.

View Plymouth Argyle FC in a larger map
Directions
Get directions to Home Park from your house by entering your post code or location below:
By Train
The nearest / closest train station to Plymouth Argyle's Home Park Stadium is Plymouth. The railway station is about one and a half miles away from the ground and takes approximately 15 minutes by foot.
To do so: Turn immediately right out of the train station, and right again under the railway bridge. You will arrive at a roundabout. In front of you will be the Pennycomequick pub. From here, walk up Alma Road to the top and turn right at the Britannia pub. You will come to a concreted path, follow it uphill and it will bring you past the council-run pitch and putt golf course to Home Park itself.
The Games To See
Rivals - Exeter, Torquay