Fleetwood Town FC - Highbury Stadium

Stadium Info
Highbury stadium has a capacity of 5,094 with just under half seated. The Main stand running alongside the stadium is a very aesthetically pleasing stand and is all seated. Opposite this stand is the Highbury stand and this stretches just half the length of the pitch. At either end is the Percy Ronson Stand and the Memorial Stand and both are covered terrace affairs. Each stand offers a fantastic view as they should. All stands have been rebuilt since 2006 and following the rise in stature the club has gone through, you can only see more development work taking place.
Away Fans
Away supporters are allocated the Percy Ronson Stand, where up to 800 fans can be accommodated. Views are excellent as the gradient is relatively steep and there are no supporting pillars. A small number of seats are also allocated to the visiting fans in the Parkside stand.
Stadium Layout
Highbury Stadium seating plan: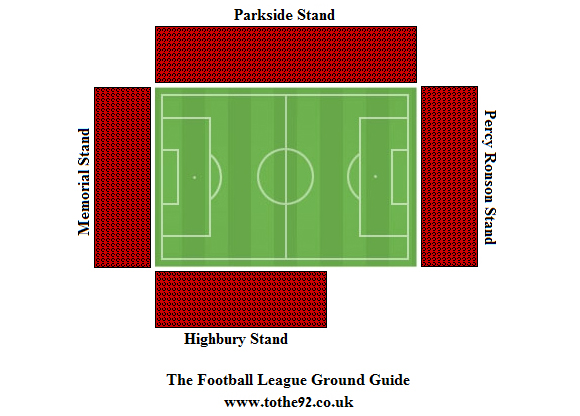 Where To Drink
There is a supporters bar located at the stadium which generally does not allow away fans in so arrive early as there are very few pubs close to the stadium but a number can be found in the centre of Fleetwood itself which is around a 10-15 minute walk.
There's a fish and chip shop opposite the stadium but if you're after anything else you'll also need to take the stroll into town.
Parking
The stadium is situated in the middle of a residential area and parking isn't usually a problem although you will need to avoid any residential permit parking zones as you'll end up with a ticket or a clamp. Very few of those around though so you shouldn't struggle for a spot. A good bet is either Gordon Road or Addison Road. Both literally moments away from the stadium.
Need cheap and convenient parking near the stadium? Rent a local resident's driveway and book Highbury Stadium parking with YourParkingSpace.co.uk

View Fleetwood Town FC in a larger map
Directions
Get directions to Highbury Stadium from your house by entering your post code or location below:
By Train
Be aware that there is no train station in Fleetwood and therefore the most likely event is that you'll be travelling to Blackpool North. This is around 6-7 miles from the stadium and as such it'll be an expensive cab journey so your best option is to catch a number 1 bus from the station. This will take you into the heart of Fleetwood and within walking distance of the ground.
The Games To See
Rivals - Blackpool