Shrewsbury Town FC - Greenhous Meadow

Stadium Info
The Greenhous Meadow Stadium has an all seated capacity of just under 10,000 and was only opened in time for the start of the 2007-08. All four stands are built to the same specification and all are quite steep allowing for fans to be close to the field of play. Being a new stadium, leg room isn't a problem and the facilities are second to none compared to a lot of its rival grounds at this level.
Away Fans
Visiting supporters are situated in the north stand at one end of the ground behind the goal where up to 1,800 visitors can be catered for. The views and facilities are very good as you'd expect from a new stadium and the leg room is also very spacious. Refreshments aren't cheap but aren't overpriced and alcohol is also freely available.
Stadium Layout
Greenhous Meadow seating plan: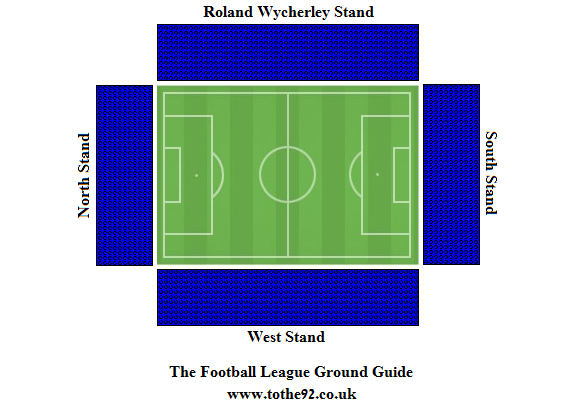 Where To Drink
Albion Vaults is situated outside of the train station so if you fancy a drink immediately after stepping off the train this Pub is recommended. The closest pubs to the new stadium are The Charles Darwin and The Peacock Inn.
The Darwin is situated just of Sutton Rd around 200 metres away from Oteley Road and The Peacock is also on Sutton Rd only its around 200 metres further. Restaurants in Shrewsbury that are recommended include The Peach Tree Restaurant, The Armoury, Country Friends and Drapers.
Parking
Parking isn't too difficult to find. The club operates a car park but unless you arrive early and are willing to pay over the odds, you'll be better off passing the stadium and heading into the local residential area to look for a space. It's approximately 10-15 minutes walk from there. There are one or two private car parks but they only appear to be open on certain match days.
Need cheap and convenient parking near the stadium? Rent a local resident's driveway and book Greenhous Meadow Stadium parking with YourParkingSpace.co.uk

View Shrewsbury Town FC in a larger map
Directions
Get directions to Greenhous Meadow from your house by entering your post code or location below:
By Train
The nearest / closest train station to Shrewsbury's Greenhous Meadow Stadium is Shrewsbury. The railway station is approximately two miles and 35-40 minutes by foot, away from the ground.
My recommendation is to jump into one of the taxi's at the rank outside the station but you also have the option of getting one of the buses that run the route from the town centre. Numbers 8, 16 and 23 all stop close to the ground and pick up from the same place.
The Games To See
Rivals - Hereford, Wrexham, Walsall, Wolves