Rotherham United FC - New York Stadium

Stadium Info
Rotherham United relocated to the New York Stadium in 2012 after 5 years at the Don Valley. They relocated to the 25,000 seater Don Valley stadium on a temporary basis in the hope that either the Millmoor rent debate could be resolved or a new stadium in Rotherham could be built. The New York stadium is a fantastic example of how to build a new ground for a lower league club without losing character. Superb unobstructed views from all areas.
Away Fans
Visiting supporters are situated toward one end of the stadium in the South Stand. The excellent accoustics make it really very easy to generate a good atmosphere. The view is unobstructed and facilities are superb whilst refreshments aren't over priced.
Stadium Layout
New York Stadium seating plan: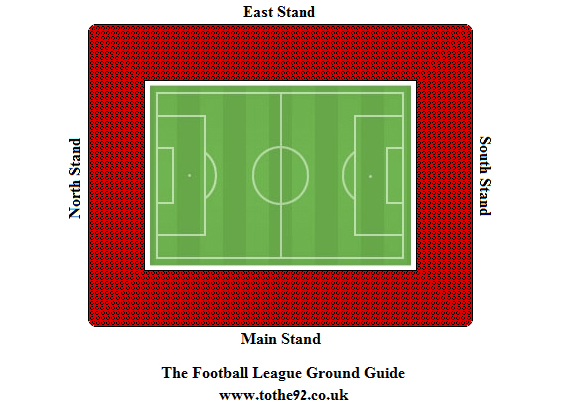 Where To Drink
Just 5-10 minutes walk from the stadium is the town centre where you can find an assortment of pubs and places to eat. Included are 3 Wetherspoons, one of which is the Rhinoceros, situated right near the railway station. A worthwhile place to stop.
Parking
Across the A630 you'll find the old Millmoor Stadium which may be worth a visit if you have a little spare time. It's also the area that you'll be best off looking for some street parking. There are closer spots that you'll need to arrive very early to grab a hold of. Alternatively, within 5-10 minutes walk of the ground you'll come across a number of pay and display car parks. There is no parking available at the stadium except for existing permit holders.
Need cheap and convenient parking near the stadium? Rent a local resident's driveway and book New York Stadium parking with YourParkingSpace.co.uk
Directions
Get directions to the New York Stadium from your house by entering your post code or location below:
By Train
The nearest / closest train station to Rotherham United's New York Stadium is Rotherham Central. It's only a short 5-10 minute walk from the stadium so if you're planning on walking, turn right as you leave the station onto Central Road. Follow this and walk all the way along the rivers edge, past the magistrates court until you reach the Main Street T-Junction. Take a left and then immediate right onto Don Street. You should already be able to see the stadium, but in case you can't, follow the road round with the stadium on your right.
The Games To See
Rivals - Barnsley, Sheffield Wednesday, Sheffield United, Doncaster Rovers