Lincoln City FC - Sincil Bank

Stadium Info
Sincil Bank has host home to Lincoln City since 1894 and has an all seated capacity of 10,130. The largest of the four stands at Sincil Bank, which holds approximately 5700 people, is the Lincolnshire Co-operative Stand which runs alongside the pitch and is home to the majority of the Imps' support. Opposite is the Lincolnshire Echo stand which runs about half the length of the pitch. Both stands behind the goals have supporting pillars. However, there are three very prominent posts right at the front of the Stacey West stand where as the Imps stand has only 2 supporting beams and not as prominent.
Away Fans
Up to 2,000 visiting supporters can be accommodated here and they are situated in one end of the co-op stand. The view from this stand is un restricted whilst the leg room and facilities are very good. A wide range of food is available at the refreshment outlets including the regular football fare starting at about £2.00.
Stadium Layout
Sincil Bank seating plan: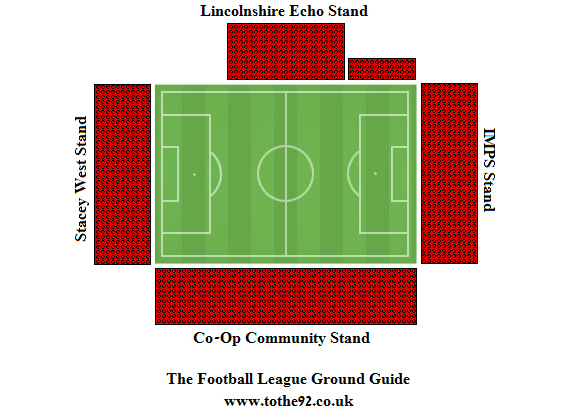 Where To Drink
Just in behind the South Stand there is a supporters bar that welcomes home and away fans before the game. You can get a wide range of beers along with hot and cold food whilst watching the early kick off's in the closest proximity of the stadium. Alternatively, if you walk up towards the town centre you'll find many more pubs and fast food establishments within 10 minutes of the ground.
Parking
Parking is available in surrounding streets, or alternatively, South Common is open for parking. This can be found at the beginning of South Park Avenue when coming in from either the A46 or from the High Street. It's free to park and only about 5 to 10 minutes walk from the ground.

View Lincoln City FC in a larger map
Directions
Get directions to Sincil Bank from your house by entering your post code or location below:
By Train
The nearest / closest train station to Lincoln City's Sincil Bank Stadium is Lincoln Central, which is around a 15 minute walk from the ground.
To get to the ground on foot from Lincoln Central turn left and then left again at the main road (High Street) going over the level crossing. take the seventh turning onto Scorer Street and then the first right into Sincil Bank.
The Games To See
Rivals - Scunthorpe, Mansfield, Hull, Grimsby, Peterborough