Wigan Athletic FC - DW Stadium

Stadium Info
The newly renamed DW Stadium was originally opened in 1999 and has a capacity of just over 25,000. All four stands are similar in height and looks and the four corners are open which unfortunately takes away from the little atmosphere that gets created. Away fans are housed in the North stand behind one of the goals.
Away Fans
Up to 5,200 visiting supporters are allocated the North Stand behind one of the goals. Facilities and the view of the playing surface are generally very good, whilst the refreshments are reasonably priced with hot dogs, pies and burgers starting from £1.90.
Stadium Layout
DW Stadium seating plan: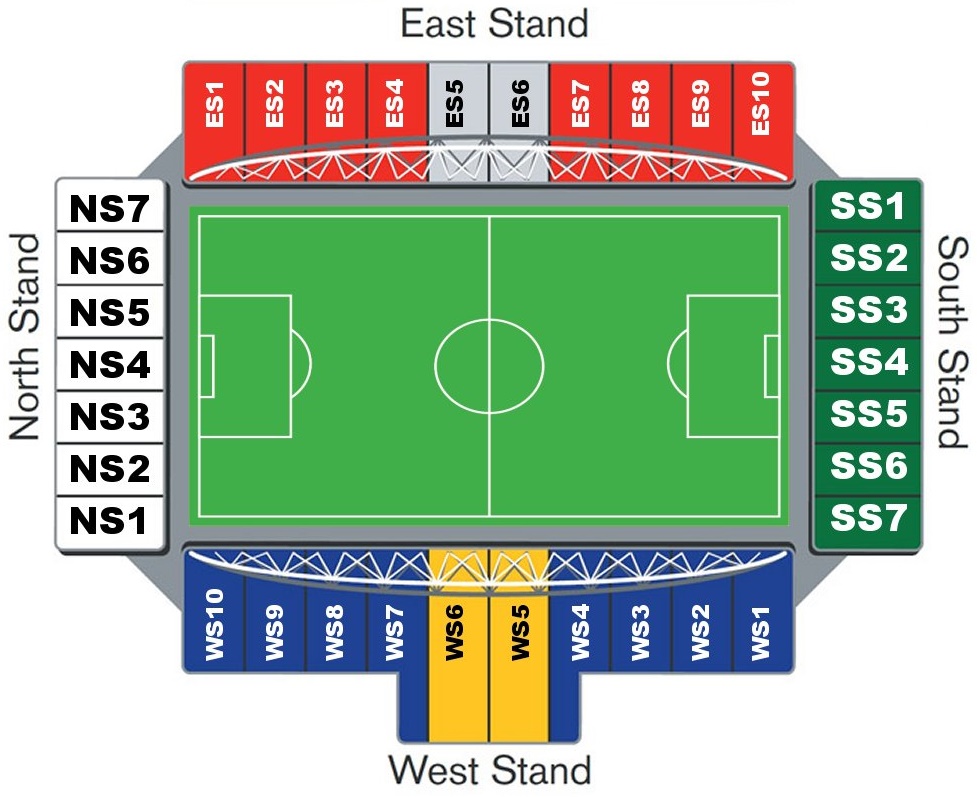 Where To Drink
The Swan and Railway is close to both stations and does food, but is small inside. Walking towards the ground there is a pub on the left called the Orwell which welcomes well behaved away supporters and does a special fans lunch with several menu choices at excellent prices along with competitive beer prices. The Queens Arms is also nearby the ground and welcomes away fans, as does The Bowling Green which is less than 10 minutes walk away from the ground.
It's almost all transnational fast food outlets in the retail park in which the DW is situated. We thoroughly recommend Market Street Fish and Chips, a short walk from both railway stations on Market Street.
Parking
Parking is available at the stadium itself in a large car park situated behind the away fans section. It costs £5 per vehicle which is very much the standard price these days but unless your quick on your toes in leaving the stadium after the game, it can take a long time to get out afterwards. Arrive early and be prepared to leave as quickly as you can is common advice.
Need cheap and convenient parking near the stadium? Rent a local resident's driveway and book DW Stadium parking with YourParkingSpace.co.uk
Directions
Get directions to the DW Stadium from your house by entering your post code or location below:
By Train
The nearest / closest train stations to Wigan Athletics DW Stadium are Wigan North-Western (on the West Coast Mainline) and Wigan Wallgate (trains from Liverpool and Manchester) which are both within a few minutes of each other in the town centre. They're both just under 2 miles from the ground and there's no bus service. A cab will set you back about £6 with a tip.
If you fancy a wander the DW Stadium is a 10 to 15 minute walk from either station.
The Games To See
Rivals - Bolton, Man City, Preston, Burnley, Man Utd