Stockport County FC - Edgeley Park

Stadium Info
Edgeley Park has host home to Stockport County Football Club since 1902 and has an all-seater capacity of 10,852. The Cheadle and Railway ends, stand behind the goals and the Cheadle end has a capacity of 5,200 making it one of the largest in the lower divisions. The Popular side is to the right of the Cheadle end and is a small build with a number of supporting pillars. Opposite is the Main Stand which, despite being older, has only 1 prominent pillar right in the middle. Although it does only stretch to around three quarters of the length of the pitch.
Away Fans
Visiting supporters are situated on the railway end where up to 1,560 fans can be accommodated. This stand is open to the elements so remember your coat when you leave home. If a large following is expected or the weather is particularly bad then a further 800 seats can be made available in the popular side. The views are unobstructed from the railway end but the popular side has a number of supporting pillars which will almost certainly block your view of one of the goals.
Stadium Layout
Edgeley Park seating plan: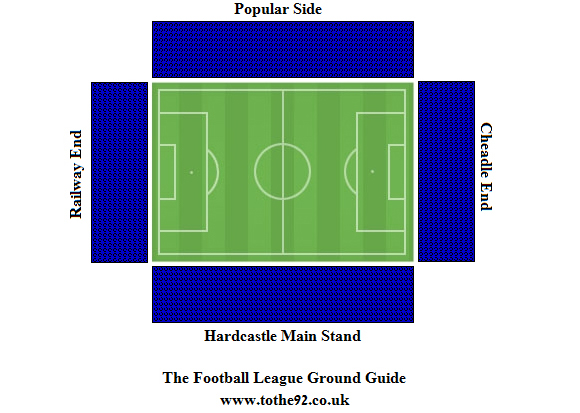 Where To Drink
One of the recommended pubs in the area is the Labour Club which is right next to the ground and always has a lot of good footie banter going round. Other Pubs in the local vicinity of the stadium are The Royal Oak, and The Armoury. These Pubs are all situated in Stockport's shopping area not far off the main road and all allow away fans entry. while waiting for your drinks you could place some bets on the game or try win at MobileSlots.net and hopefully cover the days costsThere are many restaurants in the area from Indians to Italians as well as the many pubs in the area that do traditional pub meals.
Parking
Some Parking in the streets around the ground is strictly residents or permit holders only. If you ignore this you will incur the Wrath of the authorities and residents alike. Please do not park where you shouldn't or you may find yourself with a rather nasty penalty ticket to pay when you get out after the game. Just be aware.
Directions
Get directions to the Edgeley Park from your house by entering your post code or location below:
By Train
The nearest / closest train station to Stockport County's Edgeley Park Stadium is Manchester Piccadilly. Regular trains are inbound from the North and South to Manchester Piccadilly from which you can either get the Bus to Stockport or transfer on to Stockport Railway Station. Edgeley Stadium is around half a mile from Stockport Railway station.
There is a taxi rank at the train station or alternatively you can ring the following company and pre-order taxis for your arrival in Stockport: 1919 Minibus and Taxis on 0161 494 191
The Games To See
Rivals - Oldham