Leicester City FC - King Power Stadium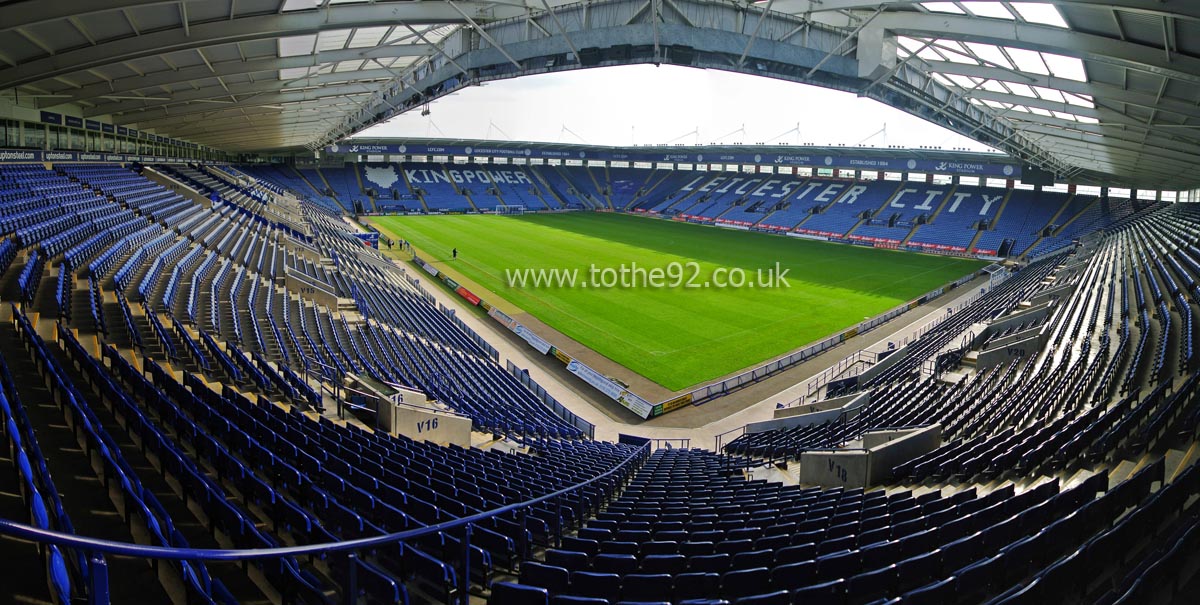 Stadium Info
The all-seated King Power Stadium, has capacity to accommodate 32,500 supporters and is named after the former shirt sponsors. It offers unobstructed views from every seat and is a very impressive built both inside and out. There is room and planning permission for future expansion which could see the ground seat over 50,000 spectators. However, regular Premier League football would certainly be required before any work would ever take place.
Away Fans
Approximately 3,000 visiting supporters can be housed in the North East corner of the King Power Stadium. The Facilities within the stadium are excellent as they should be for a relatively new stadium whilst the view of the playing action is unrestricted. The refreshment outlets inside the King Power have a decent range of hot and cold food and drinks all at decent prices.
Stadium Layout
King Power Stadium seating plan: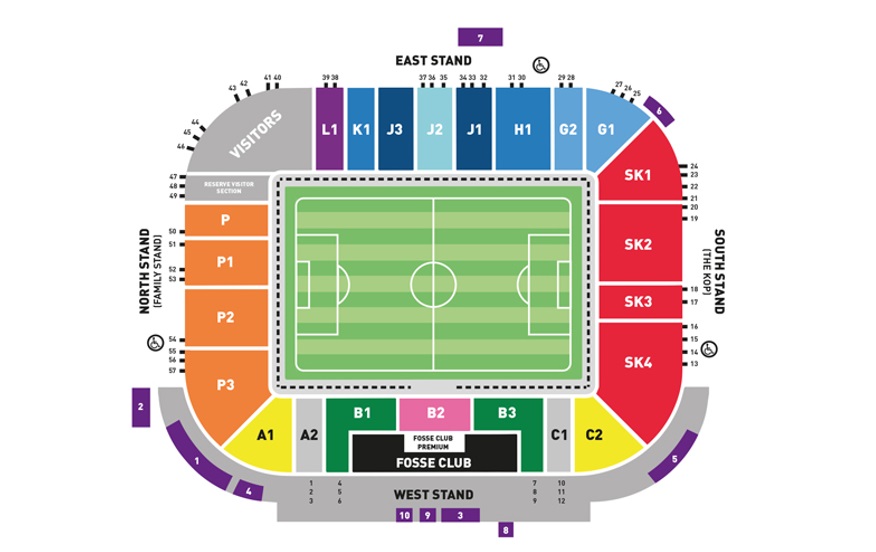 Where To Drink
For those arriving by train, The Hind across the road from the station serves a selection of real ales whilst the Swan and Rushes is quite a decent pub with a mixture of home and away fans. It offers a wide selection of beers and simple food and is recommended.
The town centre offers a selection of the usual fast food outlets including McDonalds, Pizza Hut, KFC and Burger King.
Parking
Street parking is available within a 10-15 minute walk of the stadium if you arrive early enough to take advantage of it. Alternatively, for £3 you can leave your car in the secured car park at Leicester Rugby club. It's surprisingly easy to get away from after the game so it comes highly recommended.
Need cheap and convenient parking near the stadium? Rent a local resident's driveway and book King Power Stadium parking with YourParkingSpace.co.uk
Directions
Get directions to the King Power Stadium from your house by entering your post code or location below:
By Train
The nearest / closest train station to Leicester City's King Power Stadium is Leicester. The railway station on London Road is around 20 minutes walk from the stadium. Exit the station, cross the road and turn left. If you follow Conduit Street round to the right you will come to a left turn onto Waterloo Way. Keep the main road to your left as you walk along and after half a mile you'll need to take a right onto Aylestone Walk then after 100 yards, a left onto Ayleston Road. Continue along here for about 5 minutes until you reach a right turn onto Raw Dykes Rd. If you continue to follow this road for a couple of minutes the ground will become visible up ahead on the left.
The Games To See
Rivals - Derby, Coventry, Nottingham Forest