Tottenham Hotspur FC - White Hart Lane
Stadium Info
White Hart Lane has a capacity of 36,310. All four stands are the same height and with all corners enclosed it helps to keep the generated atmosphere inside. The only stand that has obscured views is the East. It has 2 large supporting pillars although you have to be very unlucky for these to be anything more than a very slight distraction. The jumbotron screens at each end of the stadium built into the roofs above to goals are very impressive and unlike any other ground of this age. The lower tiers of the North, South and East stands are all of a decent size stretching back approximately 25 rows where as the West stand lower is only 13 rows deep.
Away Fans
Up to approximately 3,000 visiting supporters can be catered for at White Hart Lane and they're situated in the south-west corner of the ground in both the upper and lower tiers. The views from either section is excellent and leg room is more than you'll find at many other stadiums. The facilities and refreshment outlets are excellent and not over priced with pies, burger and hot dogs available from around £2.
Stadium Layout
White Hart Lane seating plan: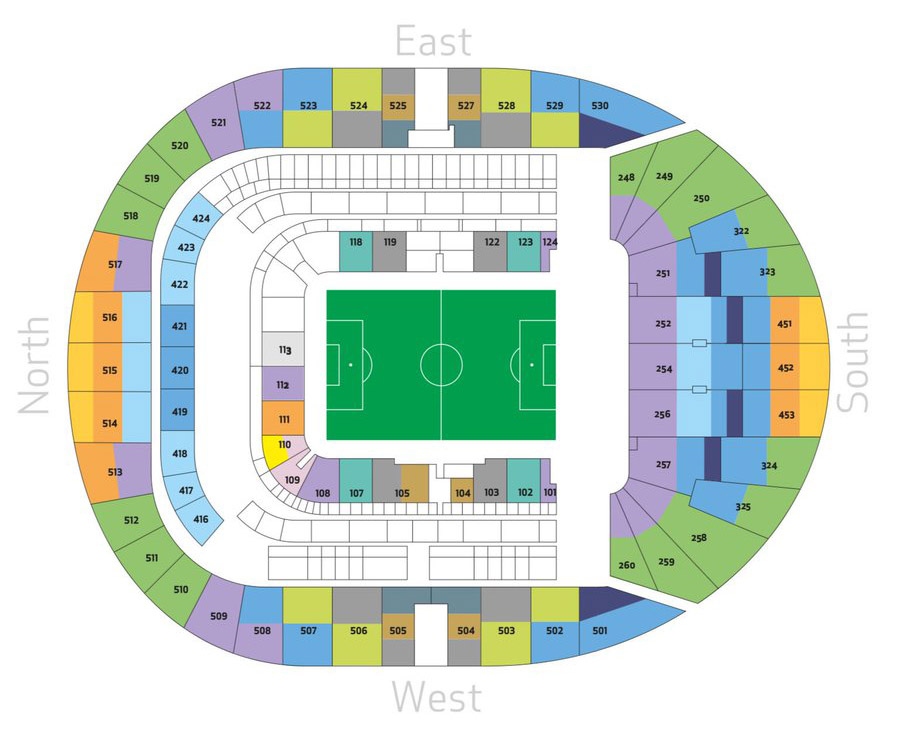 Where To Drink
Tottenham High Road has numerous cash machines, fast food outlets, bars and pubs, newsagents and bookmakers, and programs are on sale at numerous points around the ground. As far as pubs go, home fans might enjoy the Antwerp Arms on Bruce Castle Park, or the Corner Pin adjacent to the ground, both of which require tickets to be shown at the door. Away fans can chance The Ship near Bruce Grove station which is generally a very friendly bar to drink in. Currently one of best watering holes for home fans is the Bill Nicholson - lots of Spurs memorabilia, BBQ in the garden (in all weather) and just a 2 minutes walk from the ground.
Parking
Parking close to the ground is virtually impossible unless you're willing to pay in excess of £10-£15 for a space. However, street parking is available up towards North Middlesex Hospital. The roads around here are in the borough of Enfield and not part of the controlled zone that permit holders only are allowed to park in. It does mean you have a 15 minute walk to the stadium but in truth it's worth saving the parking money. Saving the cost of paying to park for two league games would almost enable you to buy the new home shirt!
Need cheap and convenient parking near the stadium? Rent a local resident's driveway and book White Hart Lane Stadium parking with JustPark.com
Driving to Tottenham Hotspur - White Hart Lane Stadium but need a car? Try Enterprise Rent-A-Car London
Directions
Get directions to White Hart Lane from your house by entering your post code or location below:
By Train
The nearest / closest train station to Tottenham Hotspur's White Hart Lane Stadium is White Hart Lane. This overground railway station is well served, with trains running regularly from Liverpool Street. The nearest tube is Seven Sisters on the Victoria line, but that leaves a 30 minute walk.
Served by the Liverpool Street - Hertford East line, White Hart Lane station is a five minute walk from the ground - on leaving the station descend the steps and turn right along White Hart Lane, crossing Love Lane. At the T-junction, turn right into Tottenham High Road.
The Games To See
Rivals - Arsenal, Chelsea