Manchester City FC - Etihad Stadium

Stadium Info
The Etihad Stadium, also known as Eastlands, was built for the 2002 Commonwealth Games. After the Games, it was converted for use as a football ground and a further 10,000 seats were added to turn it into a very impressive stadium. The stadium is bowl-shaped, with two tiers all the way around the ground and a third tier along the two side stands whilst offering unobstructed views from every seat. In 2015 an extra tier was added to the South Stand behind one of the goals increasing capacity to over 55,000.
Away Fans
Up to 3,000 away fans are allocated one side of the upper, middle and lower tiers of the South Stand behind one of the goals. This can be increased for cup games if there's enough demand. As you would expect for such a new stadium, the view from all stands is unobstructed but be aware that leg room is a little less friendly for people over 6'0. Facilities are excellent and there's a fair range of food and drink available.
Stadium Layout
Etihad Stadium seating plan: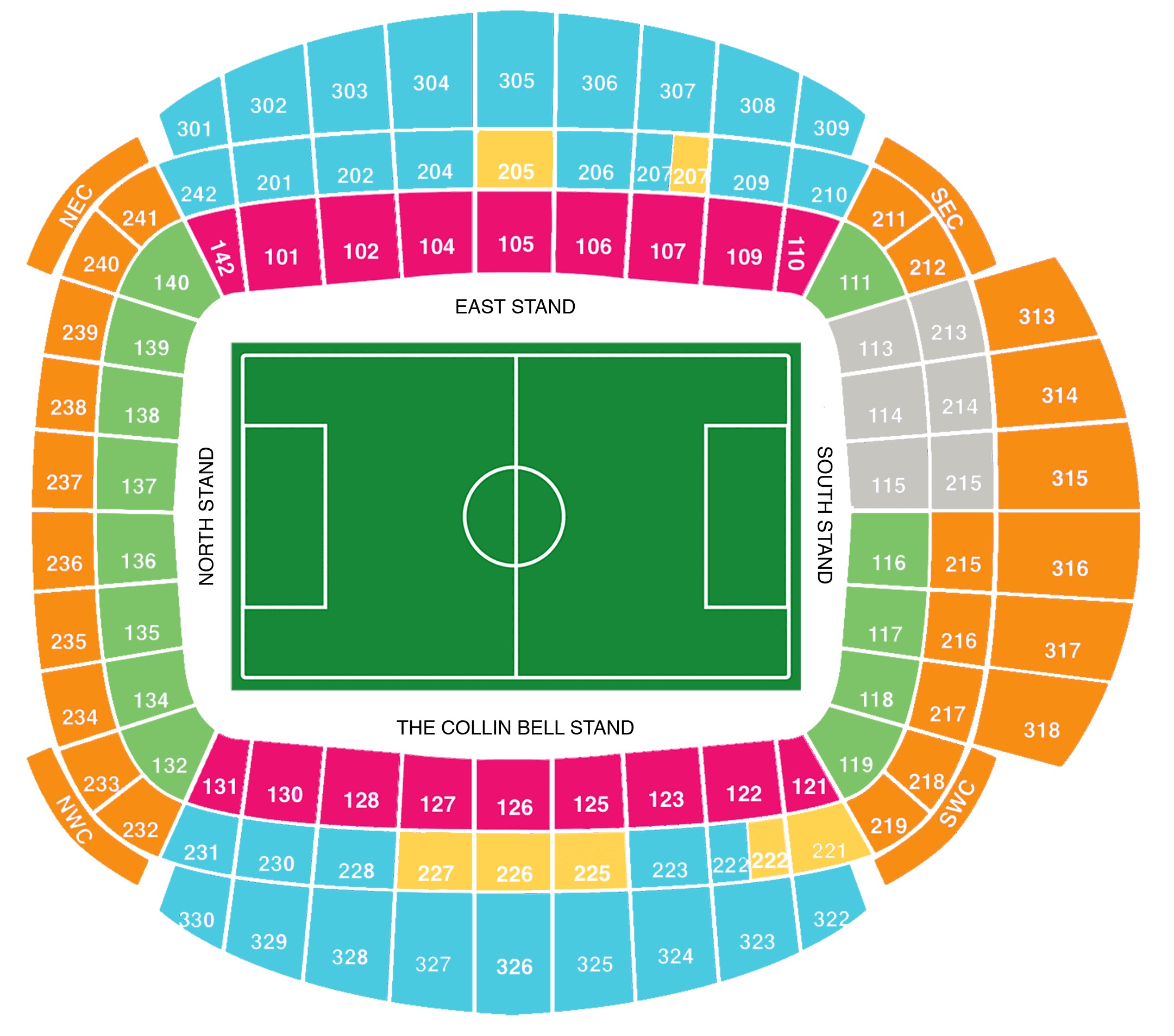 Where To Drink
There aren't too many places to drink around the ground, most fans preferring to drink in the centre of Manchester before making the short walk to the stadium. Of the pubs within the vicinity, the Stanley sports bar which is about 10 minutes walk away from the stadium does allow a small number of away fans in. It is just set back from the main A6010, going towards Ashburys train station. Children are also allowed.
Parking
There is a small amount of parking available at the stadium which costs £5 per car. The East Car Park is nearest to the away entrance. Street parking is possible but be aware that there is a residents only parking scheme in place in the immediate roads around the ground, and this extends to approximately a mile out from the stadium. Therefore, it means parking further away and then walking to the stadium. Some 'football' car parks have emerged in the local areas charging between £4 and £6 per car.
Need cheap and convenient parking near the stadium? Rent a local resident's driveway and book Etihad Stadium parking with YourParkingSpace.co.uk
Directions
Get directions to the Etihad Stadium from your house by entering your post code or location below:
By Train
The nearest / closest train stations to Manchester City's Etihad Stadium are Manchester Piccadilly and Manchester Victoria. Both are approximately a 20 to 30 minute walk away.
Ashburys is a smaller station situated to the south on Alan Turing Way and is a 15 minute walk to the stadium.
The Games To See
Rivals - Man Utd