Preston North End FC - Deepdale

Stadium Info
Four new stands have been built at Deepdale in recent years. The new stands offer uninterrupted views of the pitch from all seats. The stands all have players images built in to the seating which makes a nice change to the usual club initials. Whilst it doesn't follow the generic modern bowl-shape design, by having open corners, it manages to maintain the traditional appearance which is perhaps better suited to a club with Preston'ís history, whilst still incorporating all the features of a new ground with added leg room and easy access in and out.
Away Fans
Visiting supporters are situated in the Bill Shankly Kop stand behind one of the goals. This stand is usually shared with the home fans but when a larger following is expected the whole stand can be given over to visitors. A maximum allocation of 6,000 is available but generally this is kept to 3,000. Views, facilities and leg room are all fantastic and the refreshments aren't bad either. Prices are very reasonable and staff and stewards are generally friendly and talkative.
Stadium Layout
Deepdale Stadium seating plan: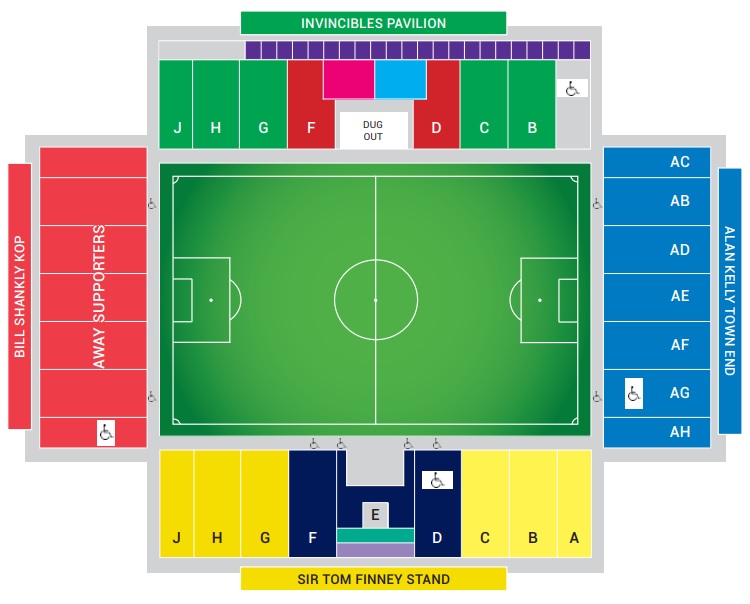 Where To Drink
In the town centre you'll find the customary Wetherspoons and many other pubs but the closest to the ground that allows away fans in is There is the Deepdale Labour Club, behind the Town End stand.
There are fast food cabins situated around the perimeter of the ground and a McDonalds and Pizza Hut close by on the Deepdale Retail Park, just off Blackpool Road which tend to get really crowded on a match day.
Parking
Parking is available in the streets surrounding the stadium if you arrive early enough. Alternatively, at Moorfields Special School parking for cars is available for £3 a vehicle. The car park is manned by volunteers from the school and all proceeds go into school funds. The school is situated just past the stadium and is signposted.
Need cheap and convenient parking near the stadium? Rent a local resident's driveway and book Deepdale Stadium parking with YourParkingSpace.co.uk
Directions
Get directions to Deepdale from your house by entering your post code or location below:
By Train
The nearest / closest train station to Preston North End's Deepdale Stadium is Preston. The railway station has 2 exits and both lead you onto the main shopping street, Fishergate. Turn right and go straight along here for a mile until you see the prison on the other side of a dual carriageway.
If you cross the dual carriageway and reach the prison you will see a pub across the road on the corner of Deepdale Road. The ground is about half a mile along Deepdale Road and will appear on your right hand side as you walk towards it.
The Games To See
Rivals - Blackpool, Burnley, Blackburn