Milton Keynes Dons FC - Stadium:MK

Stadium Info
Since opening in November 2007, Stadium:MK spent the first 7 years with only the lower tier kitted out with seating. However, it's now been completed and the total capacity is now an impressive 30,500. There are no bad seats in the house and it's a fantastic stadium for a club at this level.
Away Fans
Up to 3,000 visiting supporters can be accommodated and are situated in the north end of the stadium. The view of the action is unrestricted and leg room is very spacious. Facilities are fantastic and the concourse is inside the stadium rather than underneath meaning you can actually continue watching the game whilst buying your hot dogs or pies. A fantastic addition to a very smart stadium.
Stadium Layout
Stadium:MK seating plan: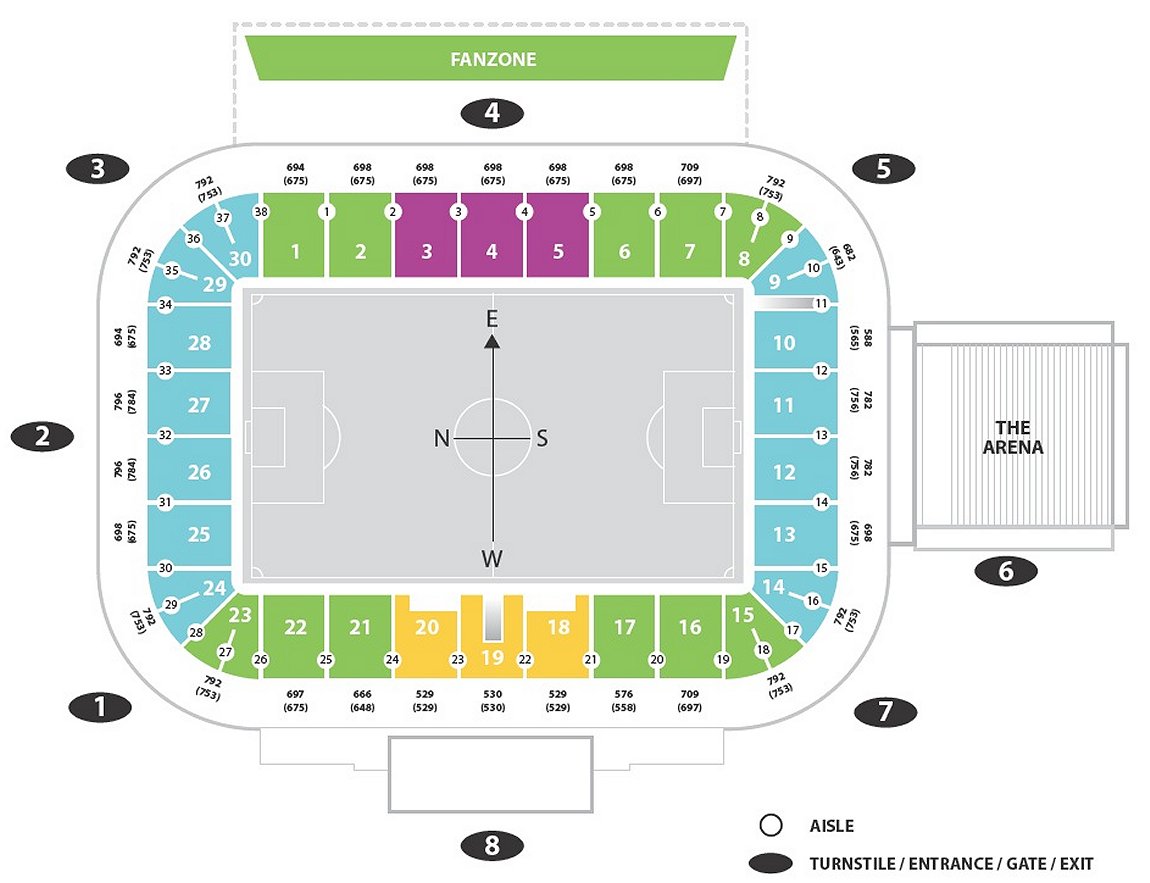 Where To Drink
The Beacon is around a five-minute walk away otherwise it's a 20 minute walk into Bletchley where there are a few pubs to be found. The Enigma Tavern on Saxon Street being one of them. In Milton Keynes centre there are a number of bars located adjacent to the main shopping centre, or within walking distance of Milton Keynes Central station. If you come out of the station you go straight up Midsummer Boulevard in front of you, then after around five minutes walk you will find a Wetherspoons outlet called the 'Secklow Hundred'. If you're looking for something to eat, there's a KFC and a McDonalds situated just next to the stadium.
Parking
There are approximately 2,000 car parking spaces at the stadium, which are available at a cost of £5 per vehicle. Alternatively you're able to park in the Denbigh West industrial estate.
Need cheap and convenient parking near the stadium? Rent a local resident's driveway and book Stadium MK parking with YourParkingSpace.co.uk
Directions
Get directions to the Stadium:MK from your house by entering your post code or location below:
By Train
Milton Keynes Central is the main railway station and the most likely one that you'll arrive at. It is however, approximately four miles away from the stadium and therefore a taxi ride from the rank directly outside the train station is a very likely bet.
The nearest railway station station to MK Dons' Stadium:MK is Bletchley. From here you're approximately 30 minutes walk away so I'd advise to jump into one of the waiting taxi's at the rank outside. Alternatively, you can walk into the town centre and hop onto one of the buses at the main bus station.
The Games To See
Rivals - Northampton, Wycombe