Notts County FC - Meadow Lane

Stadium Info
Meadow Lane has a capacity of 20,300, but at present is restricted to 13,725 due to safety requirements. The more vociferous home fans tend to gather in the Kop End behind the goal whilst the other two stands Derek Pavis (side) and Family (behind the goal) are very similar in terms of being single tiered. The family stand has an added pillar situated right in the middle of the stand which is something worth remembering when purchasing your tickets.
Away Fans
Visiting supporters are situated at the Kop end of the Jimmy Sirrel stand where 1,400 seats are made available. More can be catered for on cup nights. The stand has excellent acoustics and boasts 2 Refreshment Bars serving the usual array of football stadium food at very decent prices.
Stadium Layout
Meadow Lane seating plan: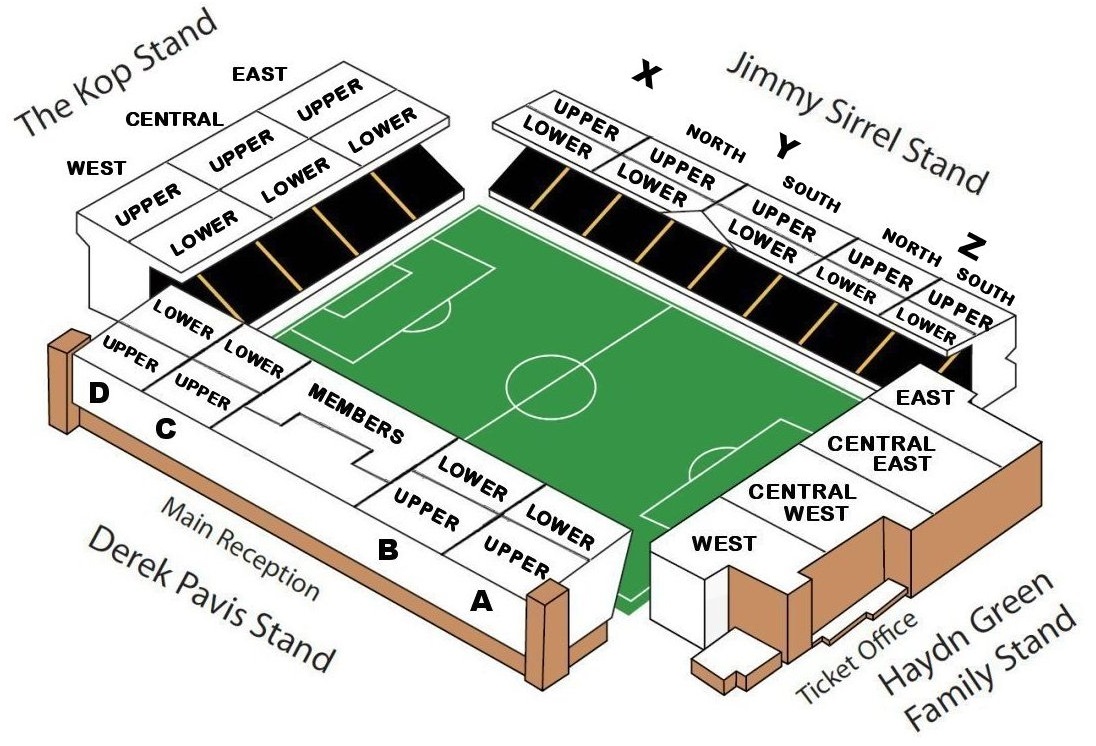 Where To Drink
The Meadow Lane Stadium is situated only 15 minutes walk from Nottingham's busy city centre which is inundated with eating and drinking establishments to suit all tastes and budgets. It is reputed that there are 1,000 licensed premises (Bars, Restaurants and Hotels etc.) within 1 square mile. Famous historical pubs such as Ye Old Trip to Jerusalem (dating from AD 1189), The Old Salutation and the Bell Inn, all close to Nottingham Castle are worth a visit. There are a host of young trendy bars in the Hockley and Lace Market areas.
Nottingham has more 'international cuisine restaurants than any city outside London so every taste is catered for. It could be Noodle Bars, Mexican or Portuguese at the 'Cornerhouse' or Brazilian, Cantonese or Italian in the 'Chapel Quarter'. The list is endless.
Parking
Street parking at the ground is freely available but if you'd prefer a secure car park or arrive late and don't have time to search for a space you have 2 main choices. You can park at the Cattle Market which is opposite the away end for £2 pre car or in the official club car park in Meadow Lane for £2.50.
Need cheap and convenient parking near the stadium? Rent a local resident's driveway and book Meadow Lane Stadium parking with YourParkingSpace.co.uk
Directions
Get directions to the Meadow Lane from your house by entering your post code or location below:
By Train
The nearest / closest train station to Notts County's Meadow Lane Stadium is Nottingham rail which is well served by Central and Midland Mainline trains from London, Cardiff, Birmingham and Liverpool, amongst others. It's a short 10 minute stroll to the stadium. To walk to the ground follow these instructions:
As you come out of the main station entrance, turn left and left again as you leave the station. Follow the road down to London Road and then turn right. The stadium is about a quarter of a mile way on the opposite side of the dual carriageway.
The Games To See
Rivals - Nottingham Forest, Chesterfield, Derby