Grimsby Town FC - Blundell Park

Stadium Info
Blundell Park is the lowest football stadium in the United Kingdom, standing at only 2 feet above sea level. The ground is unfortunately very poor. The main stand barely stretches half the length of the field and when the wind whips in off the coast it removes any possibility of an atmosphere being created. There are a large number of supporting pillars throughout the stadium and one of the only safe places to guarantee a good view is in the lower tier of the Findus Stand.
Away Fans
Visiting supporters are situated in the Osmond stand behind one of the goals. There is space for up to 2,100 fans but a lot of seats are restricted view with the numerous amounts of supporting pillars. Facilities are ok and leg room is rather cosy. However, the atmosphere is generally very good.
Stadium Layout
Blundell Park seating plan: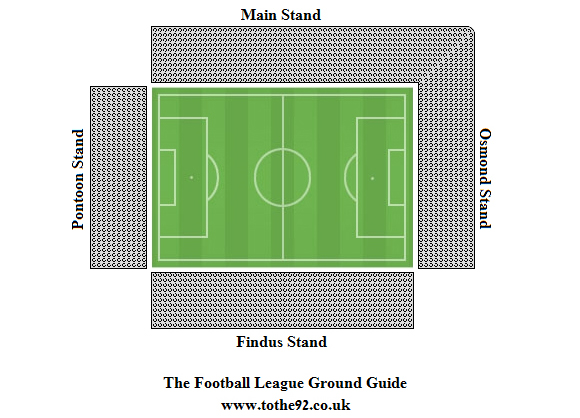 Where To Drink
The Imperial Is the nearest pub to the ground but can be quite rowdy on match days and is best avoided by most visitors. It is though a huge pub and a real meeting point for Town fans. Further along Grimsby Road towards Cleethorpes is The Leaking Boot which has a history of being very welcoming to visiting supporters. Cleethorpes town centre and seafront has a number of varied pubs with The Nottingham and Willys probably the pick
There are a couple of chippies near the ground which are OK but if you feel you want the very best then you need to go a little further. Poplar Road Fisheries is on Grimsby Road at the bottom of Isaacs Hill and is a very good takeaway, as is Ernie Becketts in Cleethorpes market place.
Parking
Parking is freely available in the surrounding streets although it will get busier the closer to kick-off you arrive. If you drive along the A180 towards Cleethorpes, once you pass the stadium any of the roads and possible and fair game. The earlier you arrive, the better space you'll get.
Need cheap and convenient parking near the stadium? Rent a local resident's driveway and book Blundell Park Stadium parking with YourParkingSpace.co.uk
Directions
Get directions to Blundell Park from your house by entering your post code or location below:
By Train
The nearest / closest train station to Grimsby Town's Blundell Park Stadium is Cleethorpes, a twenty minute walk. You've got a choice of routes to the ground from here, either right out of the station, up the ramp, turn left until you come to a roundabout with an O'Neils pub on the Left and Bar Racuda on the right.
Here you bear right and stay on the road down Isaac's Hill (only just a hill!) until you come to another roundabout, at this point you go effectively straight on down Grimsby Road for about half a mile until you reach the ground on the R/Hand side.
The Games To See
Rivals - Scunthorpe, Hull, Lincoln