Huddersfield Town FC - John Smith's Stadium

Stadium Info
The John Smith's Stadium seats 24,500 people along with hospitality boxes and conference rooms. The Direct Golf UK 'main' Stand incorporates a row of 26 executive boxes running between the two tiers. The Britannia Rescue Stand, across from the main stand, is a large, single-tiered stand which seats over 7,000. The Pink Link South Stand is usually allocated to away fans and seats 4,054. This is built into natural banking and is the most basic of the stands. The Fantastic Media North stand is the tallest stand with two tiers, 16 hospitality boxes and a viewing room for players' guests. The lower tier consists of temporary seating that can be removed for events such as concerts.
Away Fans
Up to 4,000 visiting Supporters can be accommodated here and are located in the South Stand behind one of the goals. The facilities, refreshment bars, leg room and view of the playing action are all very satisfactory as you'd expect from a ground built in the 90's.
Stadium Layout
John Smith's Stadium seating plan: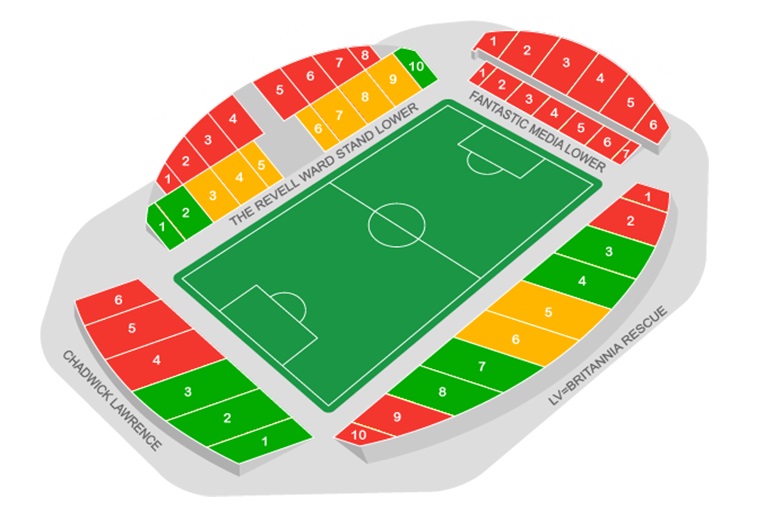 Where To Drink
The best places to eat and drink before and after a game are in the town centre. Unfortunately it's not a short walk from that ground (around 20 mins) so depending on how many you have and how fit you are it may be best to get a bus along. Alternatively, Ricky's bar on Leeds road offers a good range of beers and some cold food.
Parking
Parking is available at the stadium at a cost of £5 per car and in local 'football' car parks ranging between £3 and £5. Street parking is available but you'll need to be prepared for the 15 minute walk in.
Need cheap and convenient parking near the stadium? Rent a local resident's driveway and book John Smith's Stadium parking with YourParkingSpace.co.uk
Directions
Get directions to John Smith's Stadium from your house by entering your post code or location below:
By Train
The nearest / closest train station to Huddersfield Town's John Smith's Stadium is Huddersfield.
To walk to the ground: Take a left out of the station past the George Hotel, and head straight over the cross roads into Northumberland Street. At the end of the street, go straight over major cross roads (s/p Leeds A62). At roundabout after 0.2 miles bear right into Gas Works Street, before passing the gas works and crossing the canal. Go straight on at the crossroads by car showroom to the John Smith's Stadium. The journey should take you around 20 minutes
The Games To See
Rivals - Leeds, Bradford