Exeter City FC - St James' Park

Stadium Info
St James' Park stadium has a capacity of little over 9,000. The Flybe stand is all seated and is the newest of the four stands running alongside the pitch. The Grandstand is opposite and is a very strange build stretching only about half the length of the playing surface.
At either end are terraced stands with the Big Bank incorporating a big red and white heart into it's design and hosting home to the more vocal fans. Behind the opposite goal is the St James' Terrace and this is open to the elements.
Away Fans
Visiting supporters are situated across two areas. A limited number of seats are made available in the Stagecoach Grandstand but you'll need to arrive early to snap these up. Space for a further 1,250 is available on the St James terrace behind the goal. This is open to the elements and really makes it very difficult for visiting fans to generate any kind of atmosphere. Views are ok but as you're at ground level on the terrace it's dog eat dog for the best positions. An early arrival is a must.
Stadium Layout
St James' Park seating plan: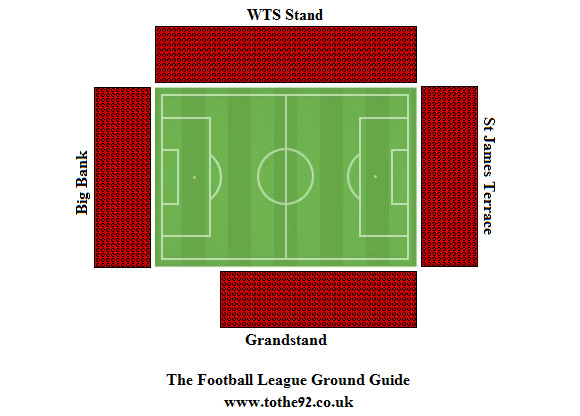 Where To Drink
There is a decent sized social club at the stadium itself which admits home and away supporters if you arrive early enough. They serve a decent range of beers and even offer a limited amount of food. Alternatively, the town centre is easily within walking distance and you'll find plenty of pubs and fast food establishments here.
Parking
Parking at the ground is difficult to come by. The club operate a park and ride scheme which may be the best option as all streets surrounding the ground are residents only. If you're willing to walk you will be able to find spaces but be prepared for a long walk back to the car if you've lost.
Need cheap and convenient parking near the stadium? Rent a local resident's driveway and book St James Park Stadium parking with YourParkingSpace.co.uk

View Exeter City FC in a larger map
Directions
Get directions to St James' Park from your house by entering your post code or location below:
By Train
The nearest / closest train station to Exeter City's St James' Park Stadium is Exeter St David's which is about a half-hour walk from the ground (mostly uphill!). However, there is a train station directly adjacent to the ground, aptly named St James'' Park on the Waterloo Line, served by services from the main Exeter St. David's. This service runs hourly with the journey taking around 13 minutes and costing £0.90p. From this station, the ground is only a couple of minutes away.
If you do fancy walking from the mainline station to the ground, exit at the eastern end of the station platform and follow through the town centre. The ground is to the North East of the station.
The Games To See
Rivals - Torquay, Plymouth