Doncaster Rovers FC - Keepmoat Stadium

Stadium Info
The all-seater Keepmoat stadium holds 15,231 spectators, 5,000 more than their previous stadium, Belle Vue, with improved legroom and disabled access. Amongst the facilities in the new stadium is a new fans' bar, created to ensure fans have a place where they can enjoy pre-match drinks. There isn't a bad view in the house and the stadium is very rarely near to being full so you can more often than not, pick your seat.
Away Fans
Visiting supporters are situated in the North stand behind one of the goals. The views are unrestricted and very good from all seats, whilst the facilities and leg room are also more than acceptable. The bowl design helps to keep the sound in allowing home and away fans to generate a lot of noise. There is a bar at the ground which visiting fans are allowed into but make sure you arrive early enough to get in before it gets too busy to move! It's friendly enough inside and children are also allowed in making it an attractive place to head for.
Stadium Layout
Keepmoat Stadium seating plan: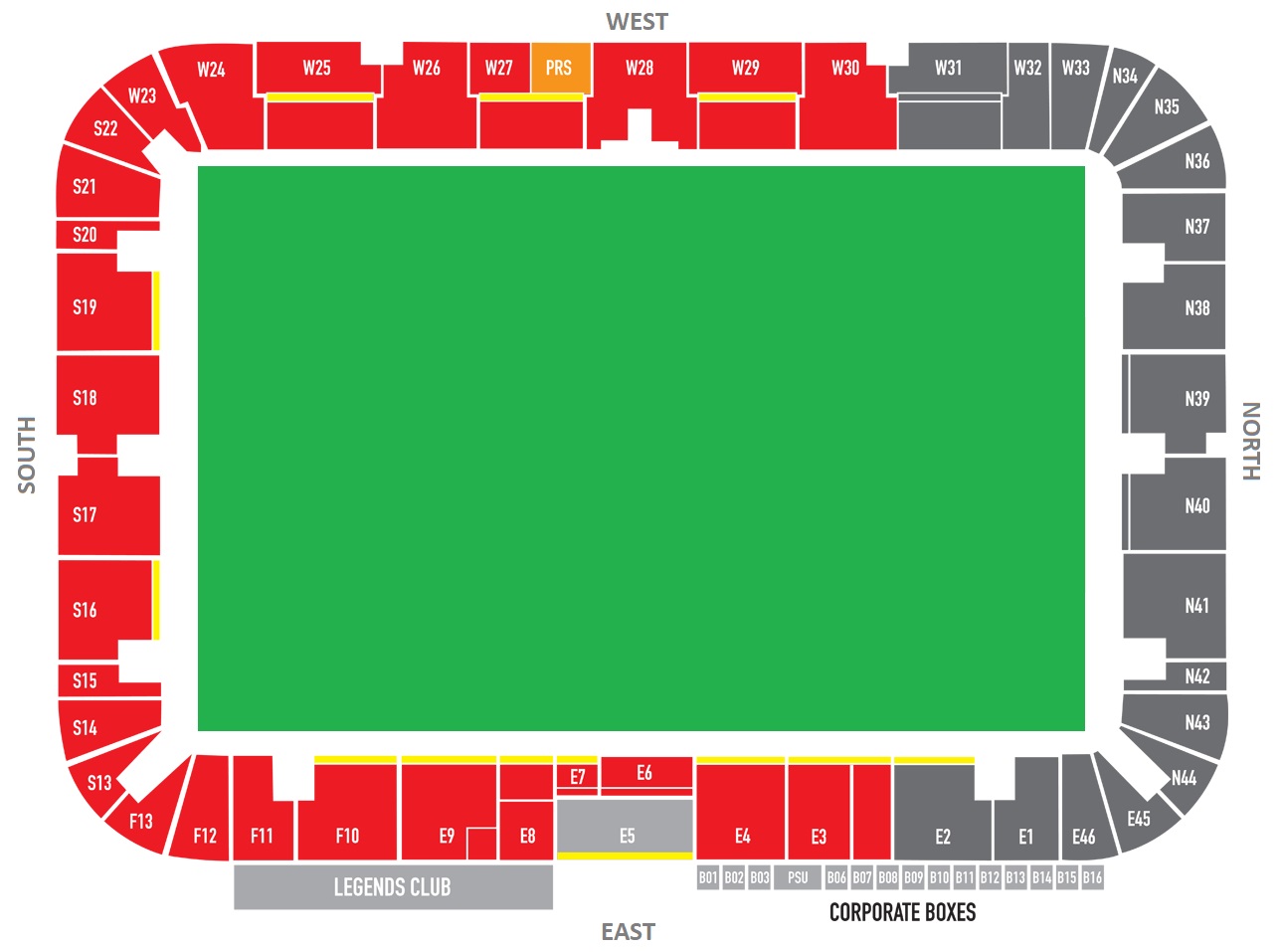 Where To Drink
If arriving in Doncaster by train, then there are numerous pubs in Doncaster Town Centre that allow away supporters in. The Tut-n-Shive is a popular pub and only a few minutes walk from the railway station. Failing that then other good pubs in the town centre are Berlin's, Wetherspoons, Moods, Livingstone's, The Nags Head, The Salutation and the Rockingham Arms. Not all of these pubs will allow in away supporters, and some won't accept club colours, but if you keep colours covered you should be ok. All of these have a decent selection of hot and cold drinks and most serve a small amount of food.
Parking
There are 1000 car parking spaces available at the stadium at a cost of £5 each. However, if you're not first out of the gate it can be a painful process to escape from here onto the main road afterwards. Alternatively, a number of companies on the nearby industrial estate, offer match day parking at around £4 per vehicle. But if you're able to arrive a couple of hours before kick off then there is also some free street parking to be had in the surrounding area.
Need cheap and convenient parking near the stadium? Rent a local resident's driveway and book Keepmoat Stadium parking with YourParkingSpace.co.uk

View Doncaster Rovers FC in a larger map
Directions
Get directions to the Keepmoat Stadium from your house by entering your post code or location below:
By Train
The nearest / closest train station to Doncaster Rovers' Keepmoat Stadium is Doncaster. If you arrive at Doncaster railway station be aware that it's approximately 2 miles from the stadium so unless you fancy a walk, you may be best catching a bus from outside the station or jumping into one of the taxi's at the rank. There is a dedicated bus service from the Doncaster Interchange bus station which is another option and runs from approx 2 hours before kick off. It's the other side of the shopping centre. It runs every 10 minutes direct to the Stadium.
The Games To See
Rivals - Barnsley, Rotherham, Hull