Crawley Town FC - Checkatrade.com Stadium

Stadium Info
The Checkatrade.com Stadium was opened in 1997 and as such has a very nice new feel to it. However, with promotion to the football league and the recent cash injection, an expansion may not be far away. Only the West Stand is seated and the North and South terraces behind the goals have very little gradient making it tough to see if you're not at the front. The East terrace is open to the elements and has no slope. It wouldn't surprise me to see the owners pushing a stadium expansion to future proof their investment.
Away Fans
Visiting supporters are situated on the North terrace where approximately 1,500 fans can be catered for. The facilities within the stand are basic but clean and the food is reasonably priced. There are a small number of seats made available to away supporters in the West Stand.
Stadium Layout
Checkatrade.com Stadium seating plan: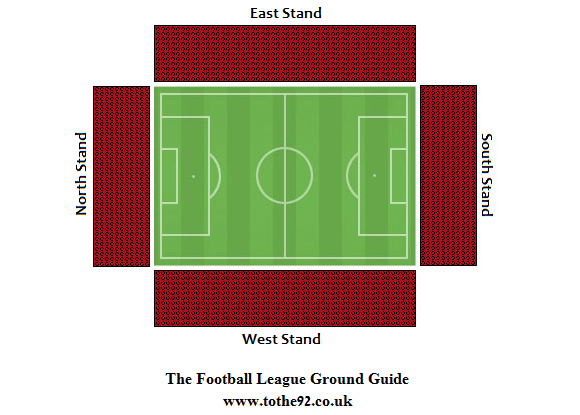 Where To Drink
There is a fantastic little social club on site at the stadium called Redz, which is definitely worth a visit. There's a bar, small selection of food and tv's to watch early kick off's. It's generally designated for home fans but keep away shirts covered and you'll be fine.
If you're looking for something else, the Imperial pub is about 5 minutes walk away. It's situated right in the centre of Broadfield and it's postcode is RH11 9BA. I'm told that away fans are welcome and colours can be worn. Another option is the Half Moon on Brighton Road. Also a 5 minute stroll from the ground. If you're into Indian food, locals say that the bet curry in town is served up at The Downsman Pub. Worth a visit.
Parking
There is a large car park available for use at the stadium at a cost of just £2 per vehicle. As with most club car parks, you'll need to be aware of the slow exit time after games, especially when there's been a decent sized crowd attending the match. This will obviously be more usual with the extra fan base now they're in the football league.
Need cheap and convenient parking near the stadium? Rent a local resident's driveway and book Broadfield Stadium parking with YourParkingSpace.co.uk
Directions
Get directions to the Checkatrade.com Stadium from your house by entering your post code or location below:
By Train
The nearest / closest train station to Crawley Town's Checkatrade.com Stadium is Crawley. It's approximately a 5 minute taxi ride to the ground from here.
To walk you need to turn left out of the station. After about 300 yards turn left onto the Brighton Road and cross the railway bridge. Continue along the road for approximately half a mile until you see the stadium on your right. Use the underpass to get to the Checkatrade.com Stadium.
The Games To See
Rivals - Brighton, Aldershot