Wolverhampton Wanderers FC - Molineux

Stadium Info
Molineux is one of the most distinctive stadiums in the country, being one of the earliest post-Taylor-report grounds. There are four large stands named after historical Wolves figures; the Billy Wright and Steve Bull stands running the length of the pitch, and the Stan Cullis and Jack Harris stands behind the goals. The more vocal fans are situated in the Jack Harris stand.
Away Fans
An allocation of 2,750 tickets are available to visiting supporters and are located in the upper and lower tiers of the Stan Cullis Stand at the North end of the ground. The view of the playing action is unobstructed and generally very good. Refreshments are various and not over priced whilst facilities are very good. Much as you would expect from a new stand.
Stadium Layout
Molineux seating plan: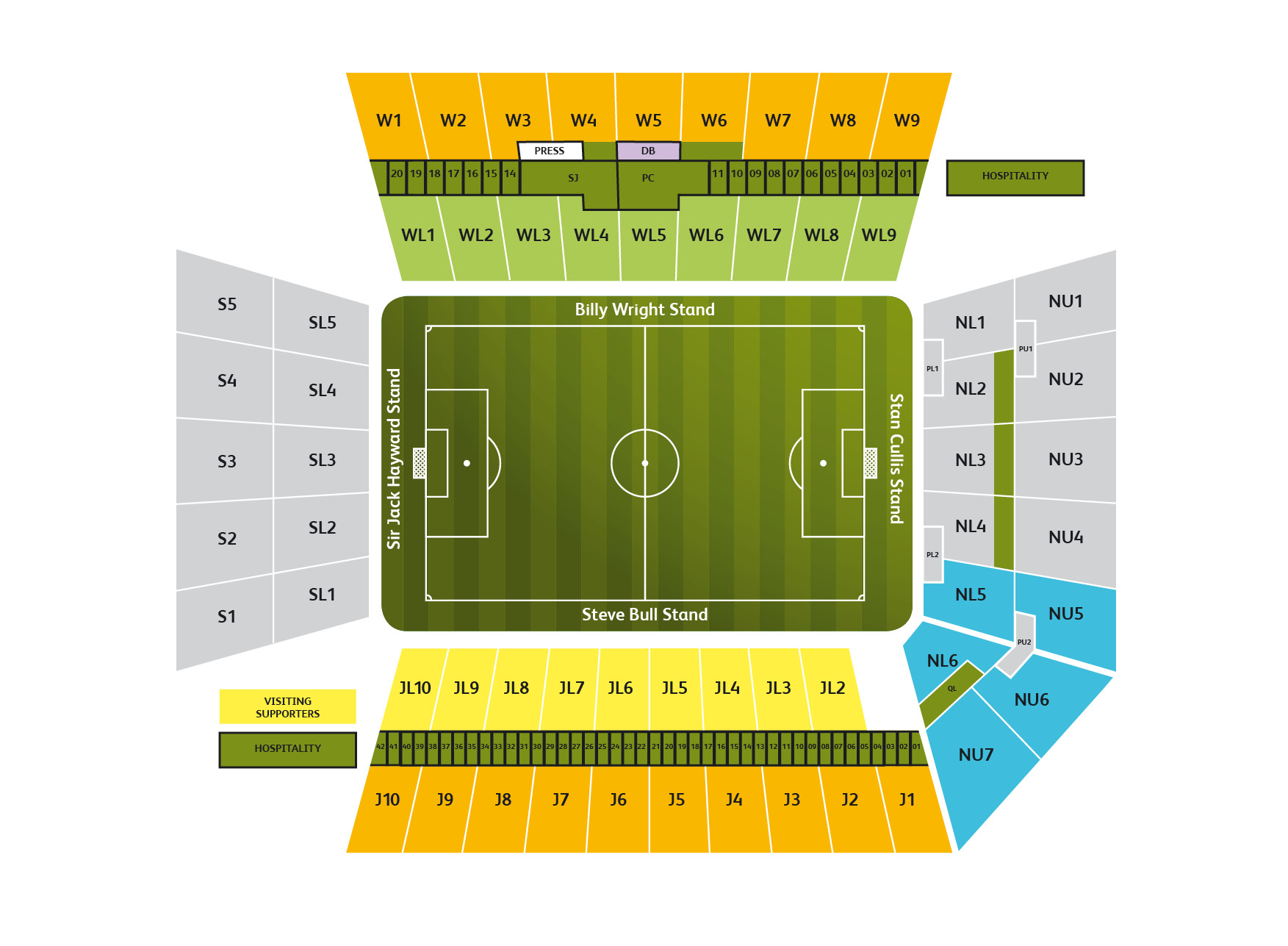 Where To Drink
There are a number of pubs dotted around the ground, but they tend to be for home supporters only. The Great Western, behind Wolverhampton train station is a great pub but it is sadly quite small, and away fans must not wear colours. The Litten Tree in the city centre is away fan friendly. The Prince Albert pub also nearby to the station should be avoided.
The best fish and chip shop close to the ground is in Staveley Road. Be aware that there is nearly always a queue but it's certainly worth the wait once you're there. The special meal deals are particularly good value and very tasty. Elsewhere there are a few burger stalls dotted around the stadium.
Parking
Parking is limited in the surrounding area but the best option seems one of two. You can drive towards the town centre and parking is available in many pay and display car parks here ranging between £3 and £6 for five hours. The other option is to travel up to the stadium and use one of the official football parking car parks which are signposted. Both options are a short walk back to the ground.
Need cheap and convenient parking near the stadium? Rent a local resident's driveway and book Molineux Stadium parking with YourParkingSpace.co.uk
Directions
Get directions to Molineux from your house by entering your post code or location below:
By Train
The nearest / closest train station to Wolverhampton Wanderers' Molineux Stadium is Wolverhampton. This is approximately 10 minutes walk from the ground.
Leave the station and proceed straight on towards the town centre and as you reach the inner ring road turn right. Just follow the ring road as it continues in a circular pattern around to the left. Eventually you will see the Molineux on the right.
The Games To See
Rivals - West Brom, Birmingham, Aston Villa