Ipswich Town FC - Portman Road

Stadium Info
Portman Road has a current capacity of 30,311 after redevelopment in the early 2000's of both North and South stands. In the past ten years, statues of both Sir Alf Ramsey and Sir Bobby Robson have been unveiled outside the stadium. The North Stand was renamed in honour of former manager Bobby Robson before a game with Newcastle United in September 2009. There are very few bad seats in the house and there's generally a very good atmosphere.
Away Fans
Up to 1,900 visiting supporters can be catered for and are allocated one side of the upper tier of the Cobbold Stand at one side of the pitch. The view is very good unless you're at the very back although the leg room is rather tight and in the summer it gets incredibly hot and uncomfortable (trust me). Facilities are very good and the food is what you'd expect to find with the usual burgers, hot dogs, pies and chips at reasonable prices.
Stadium Layout
Portman Road seating plan: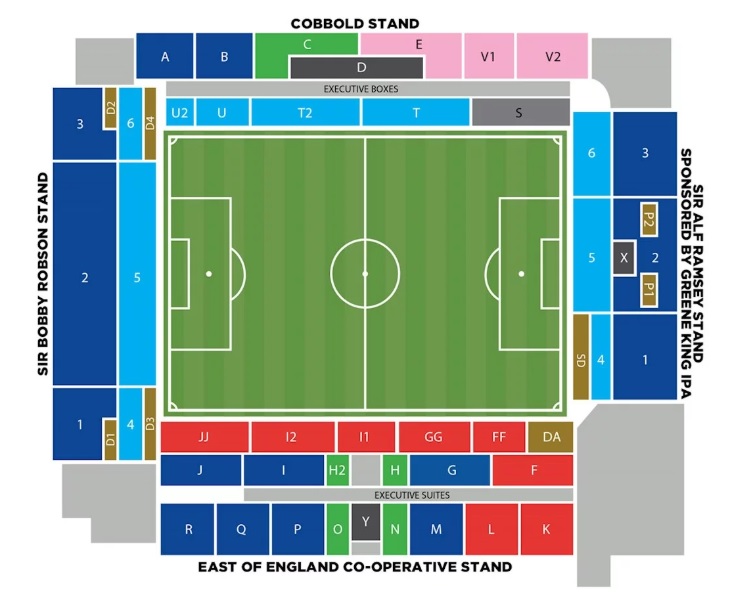 Where To Drink
For away fans, the choice of drinking establishments is very limited. The station hotel between the train station and the ground is as good a bet as you're likely to find. In the town centre, there are many more to choose from but probably still best to keep club colours hidden until you leave. In the town centre there's a wide array of fast food outlets such as McDonalds and Burger King along with a few nice Chinese and Italian restaurants for those wanting something more substantial.
Parking
There are three pay and display parks along Portman Road with a total of approximately 800 spaces. It costs £3.50 to park your car for the Saturday afternoon. However, early arrival is recommended to ensure a space as street parking is very limited in the surrounding areas.
Need cheap and convenient parking near the stadium? Rent a local resident's driveway and book Portman Road Stadium parking with YourParkingSpace.co.uk
Directions
Get directions to Portman Road from your house by entering your post code or location below:
By Train
Ipswich train station is less than half a mile away from Portman Road, and the ground is visible from the station. Upon arrival at Ipswich train station you will simply come out of the entrance and onto Princes Street. You'll be able to follow this over the bridge and all the way up to the stadium which will be on your left as you approach.
Trains run in to Ipswich from Liverpool Street and also from Peterborough.
The Games To See
Rivals - Norwich, Colchester