Barnsley FC - Oakwell

Stadium Info
With a capacity of more than 23,000, Oakwell is more than double the size of the average home gate. A nice modern stadium with one stand in need of redevelopment. The West Stand has wooden flooring in the upper tier and there are some 'issues' with the roof, all of which culminating in the club announcing back in 2008 that they would be knocking it down and re-building it. If this was to happen, it would increase capacity by just under 4,500.
Away Fans
Visiting supporters are seated in the North Stand. You'll normally get about 2,000 tickets but if there is more demand the number can rise to around 6,000. It's not recommended that away fans drink in Barnsley city centre at all. So if you do it might be a good idea to cover up any colours.
Stadium Layout
Oakwell seating plan: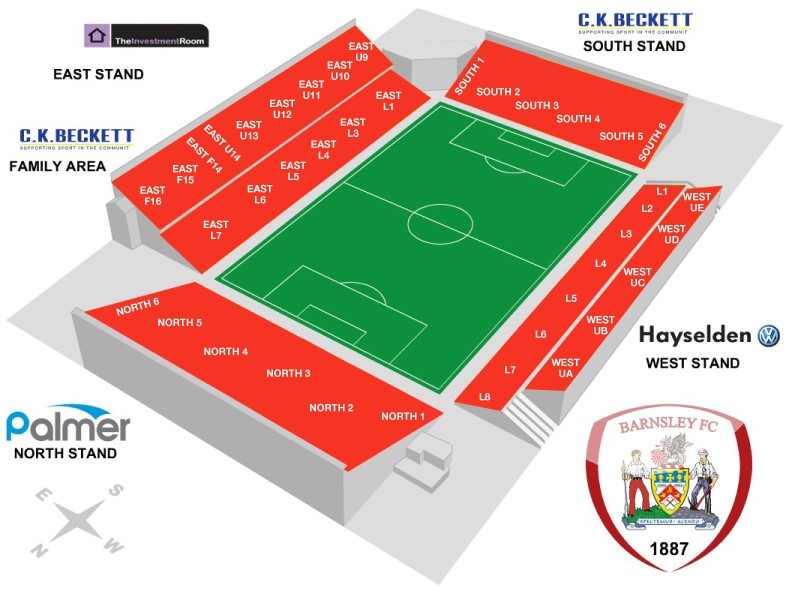 Where To Drink
The Metro Dome, which serves food till 2pm, The Coach and Horses and The East Deane Working Mens' Club both on Doncaster Road are reportedly away fan friendly. The East Deane Club serves food from a hatch but you have to sign in to enter. Children are welcome however, if accompanied by an adult.
Parking
Parking is freely available on site at the club. There are two large car parks, one for home and one for visiting supporters which allow easy access to and from the stadium.
Need cheap and convenient parking near the stadium? Rent a local resident's driveway and book Oakwell Stadium parking with YourParkingSpace.co.uk
Directions
Get directions to Oakwell from your house by entering your post code or location below:
By Train
The nearest / closest train station to Barnsley's Oakwell Stadium is Barnsley. This is approximately 5 minutes walk from the ground.
Turn left away from the town centre when you leave the train station then left again onto Eldon St N. After 100 yards turn left onto Regent Street and follow it to Kendray St where you turn right again. Continue onto Pontefract Road for a couple of hundred yards and then take the left at Bala Street. The Ground is about 5 minutes walk straight ahead.
The Games To See
Rivals - Sheffield United, Sheffield Wednesday, Rotherham