Reading FC - Madejski Stadium

Stadium Info
The Madejski Stadium has an all seated capacity in excess of 24,000. There are no bad views within the stadium and having only been built in 1998 it takes on a very familiar shape to a lot of other newish stadiums. A bowl-shaped arena with three single tiered sides and an extra tier on the main stand. Raidraig Curran tells me: the more vociferous fans tend to sit in the East Stand which runs alongside the pitch. Blocks Y25 and Y26 to be exact.
Away Fans
Visiting supporters are situated in the Fosters Lager South Stand in behind one of the goals. A maximum allocation of 4,300 is available but rarely taken and the usual number is somewhere in the region of 2,250. The views from here are fantastic and facilities are very good as you'd expect from a relatively new stadium. Food is ok and priced reasonably whilst leg room is rather spacious.
Stadium Layout
Madejski Stadium seating plan: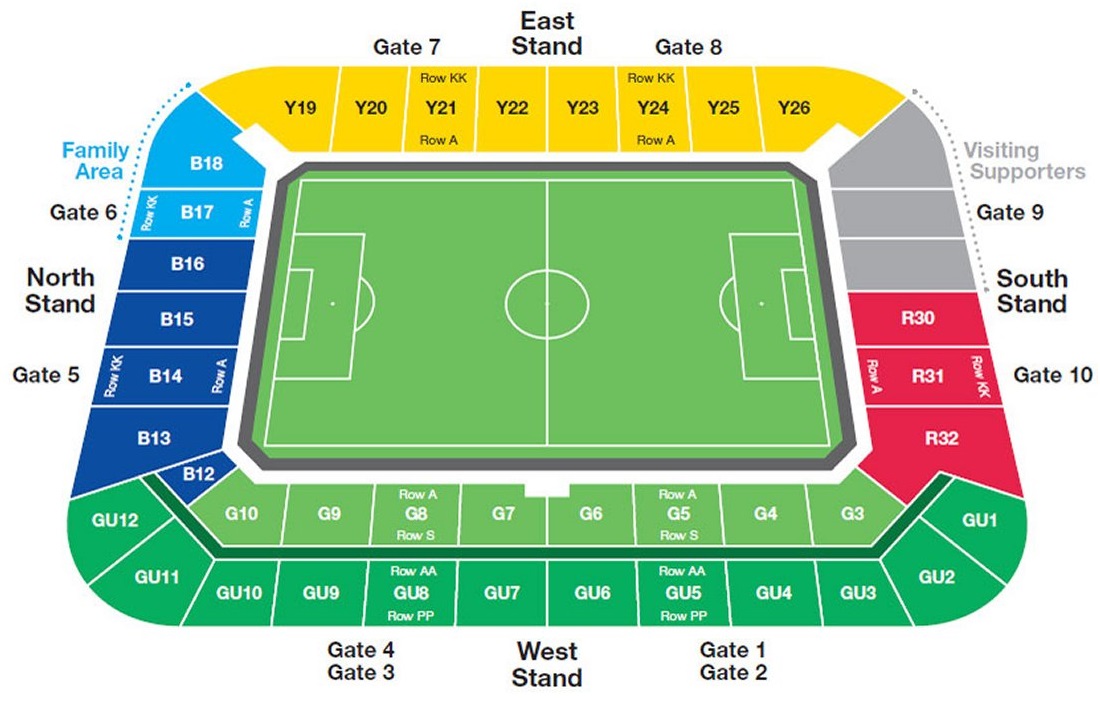 Where To Drink
Post House, is about a 10 minute walk from the stadium, situated on the old Basingstoke Road, and is signposted from the second roundabout off the M4. You can also park there for £3 which goes to the Sports Foundation charity. Both home and away fans are welcomed and this makes for a lively atmosphere.
The town centre has a variety of eating and drinking places. Overlooking the river in The Oracle are mostly restaurants and designer bars, whilst Friar Street has the usual range of Wetherspoons-type pubs. Fast food joint are scattered around the town centre in various places.
Parking
Parking is available in the local area, though you'll need to be very early to take advantage of any street parking in the surrounding roads. The private car parks on the industrial estate are the preferred choice of many supporters with prices ranging from £5 up to £10 so it's worth looking around before deciding on one.
Need cheap and convenient parking near the stadium? Rent a local resident's driveway and book Madejski Stadium parking with YourParkingSpace.co.uk
Directions
Get directions to the Madejski Stadium from your house by entering your post code or location below:
By Train
The nearest / closest train station to Reading's Madejski Stadium is Reading. The railway station is about 3 miles away, and is a major rail interchange – also one of the most congested in the country!
But there are plenty of buses to and from the station – get the number 79 bus from the station to the ground – this leaves from diagonally opposite the main exit from the station. After the match, these buses leave from the hill outside the ground and there will be substantial queues if you're not one of the first out of the ground. Worth remembering.
The Games To See
Rivals - Swindon, Wycombe