Norwich City FC - Carrow Road

Stadium Info
Carrow Road was re-developed in 1990 when it was converted to being all seated as a result of the Taylor report. The stadiums capacity is 26,034 and with the exception of a supporting pillar either side of the Barclay and River ends, there are very few bad seats in the house. The Geoffrey Watling stand is the oldest in the ground but still offers excellent views coupled with good facilities and leg room.
Away Fans
Visiting supporters are situated in one end of the south stand where up to 2,500 fans can be housed. The view from here is excellent and unobstructed whilst the facilities also fill a gap without re-mortgaging your house. If you have time, be sure to try one of Delia's pies. The best pie I've tasted in a long time.
Stadium Layout
Carrow Road seating plan: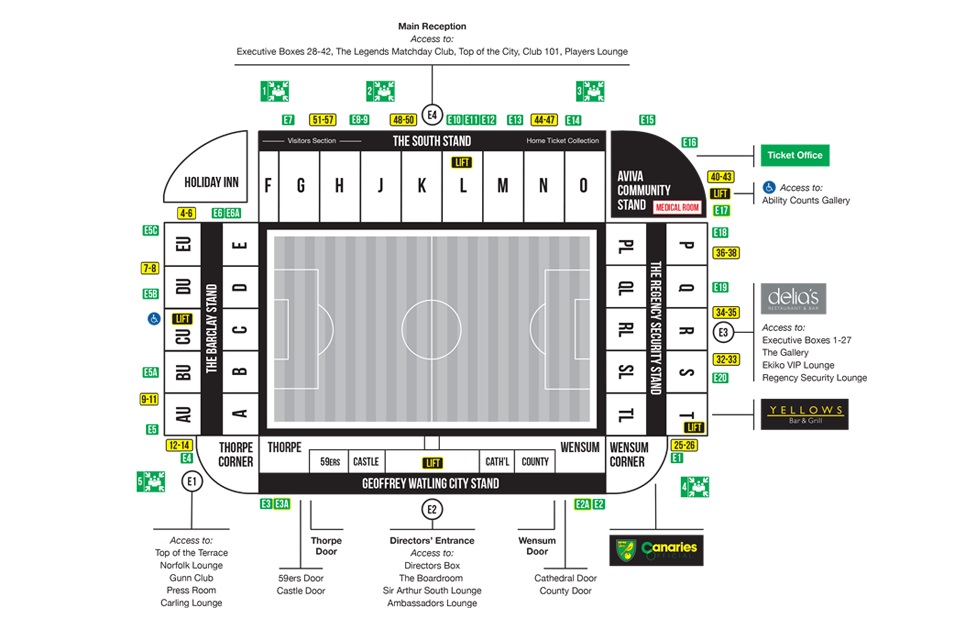 Where To Drink
The main away fans pub is the Compleat Angler, directly opposite the station. It's a very welcoming pub which actually caters for both home and away fans but always has a friendly atmosphere. They serve a wide range of beers and even a small amount of food.
If you have travelled by train and fancy a bite to eat there's a KFC nearby. On exiting the station, go straight over the traffic lights, (over the bridge) into Prince of Wales Road. The Kentucky is about 150 yards down on the right.
Parking
Parking is available in the streets surrounding the stadium although it is limited and be aware of the residential areas. Private car parks are few and far between here but Norfolk County Hall has space for approximately 2000 cars and is reasonably priced at £3 per car. However, arrive early to get the best spot and to avoid spending a fair while trying to escape after the game.
Need cheap and convenient parking near the stadium? Rent a local resident's driveway and book Carrow Road Stadium parking with YourParkingSpace.co.uk
Directions
Get directions to Carrow Road from your house by entering your post code or location below:
By Train
The nearest / closest train station to Norwich City's Carrow Road Stadium is Norwich rail.
The ground is approximately a five minute walk from the station but you can't really miss it as the train pulls in. If you were asleep at the time, just turn left and follow the dual carriageway past the car parks and supermarket.
The Games To See
Rivals - Ipswich, Colchester