Cheltenham Town FC - LCI Rail Stadium

Stadium Info
With a capacity of just over 7,000, the LCI Rail Stadium was the smallest in league one in 2009. Having had some recent re-developments the view from most areas of the ground is generally very good. The Stagecoach main stand is a mixture of seating at the back and standing at the front, although it's strange because it doesn't stretch the length of the pitch and doesn't reach either corner flag.
Away Fans
Up to 1,100 visiting supporters can be accommodated here and they are situated at one end of the ground in the Hazlewoods Stand. The view of the playing surface is excellent and unrestricted, whilst the leg room and facilities available inside are excellent. The refreshments bar is very good as you'd expect from a new stand and it offers a large range of all the usual football food fare.
Stadium Layout
LCI Rail Stadium seating plan: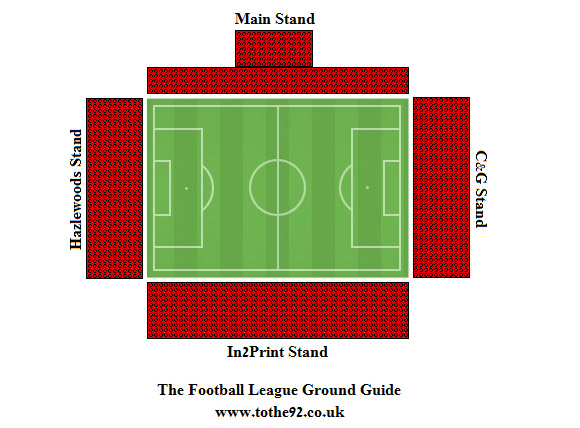 Where To Drink
There are a number of pubs in the local vicinity but if you arrive early enough, a visit to the club bar at the ground is well worth it. It's called the Robins Nest and in similar terms to Dagenham, allows away fans in for £1 each. Selection of hot and cold drinks and a small range of food is available.
Parking
Parking is limited in nearby roads but the club operates a free park and ride service from the Cheltenham racecourse. If you want to get away quickly after the game then you'll need to arrive early to find a space nearby.
Need cheap and convenient parking near the stadium? Rent a local resident's driveway and book Abbey Business Stadium parking with YourParkingSpace.co.uk

View Cheltenham Town FC in a larger map
Directions
Get directions to the LCI Rail Stadium from your house by entering your post code or location below:
By Train
The nearest / closest train station to Cheltenham Town's LCI Rail Stadium is Cheltenham Spa. The railway station may be the closest but is still over two miles and 40 minutes walk away. I'd recommend getting one of the taxi's from the rank outside but if you're feeling fit and looking to take a wander here's how: Exit the station and take a right along Gloucester Rd. Follow the road along for about half a mile and then take a right onto St Georges St. After another half mile follow the road round to the left onto Clarence Parade. Take the next right onto Clarence St, then right again onto Fairview Rd. Turn left onto Winchcombe St and continue along here for a few minutes until you reach Whaddon Rd on the right.
The Games To See
Rivals - Swindon