Burnley FC - Turf Moor

Stadium Info
Turf Moor is one of the oldest football grounds still in use in the United Kingdom, behind only Preston North End's ground, Deepdale and Sheffield United's Bramall Lane. The stadium has a capacity of just over 22,000 but due to the age, the Bob Lord and David Fishwick stands are complete with wooden seats and numerous pillars. The history inside the ground, such as the wooden seats, is quite incredible and it's most definately a ground worth visiting.
Away Fans
Visiting supporters are situated in at one end of the David Fishwick stand. Up to 2,100 away fans can be accommodated for league matches and can be found on the Bob Lord side of the stand. Views are un restricted and facilities are very good.
Stadium Layout
Turf Moor seating plan: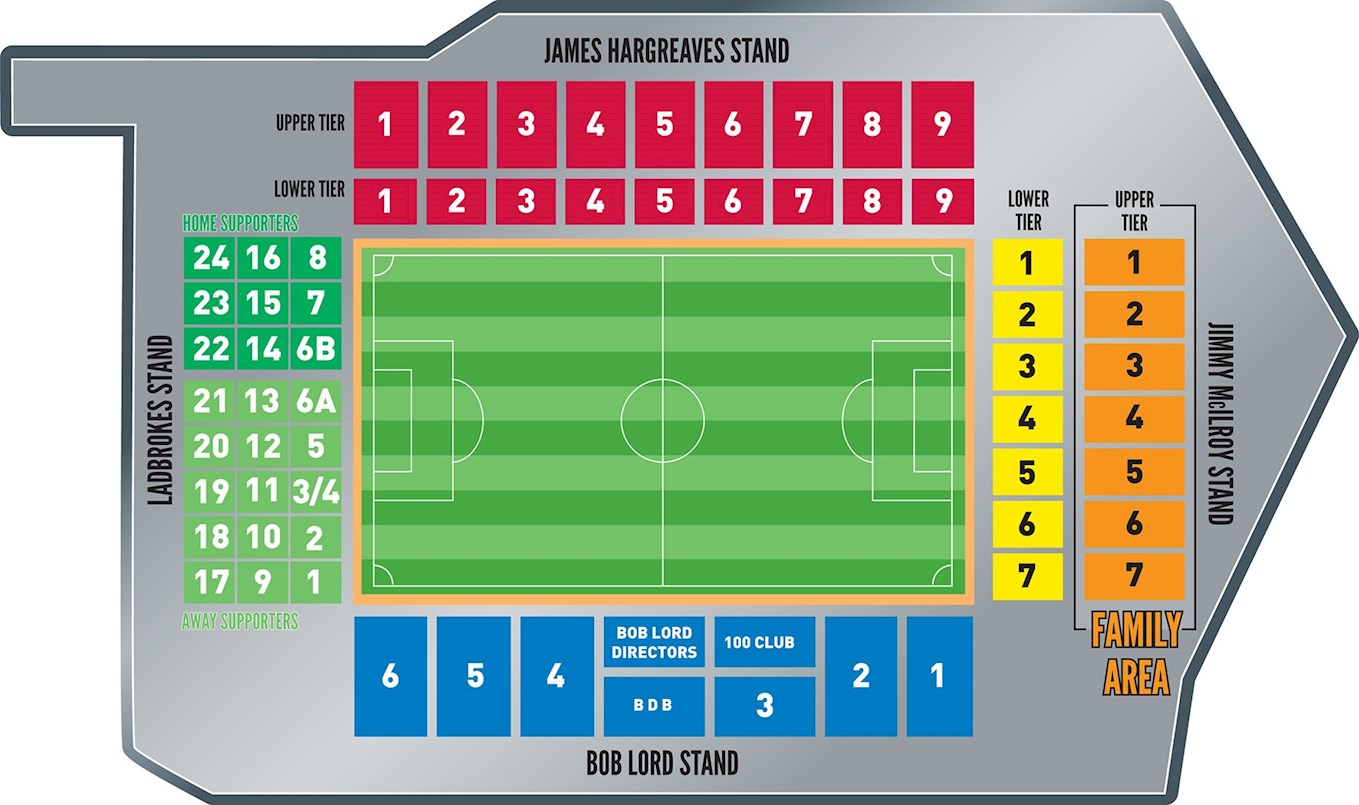 Where To Drink
It would be a good idea to avoid any pubs on Yorkshire Street if you're an away fan as they are restricted to home fans only. However, round the back of the away stand there is an away friendly venue in the form of a cricket club where you can get your standard match day pint and pie without any bother.
Parking
There are plenty of large car parks in the local area including three recommended by the club situated on Brown St, Plumb St and Bancroft Avenue. You can also use the local cricket club although street parking is also available.
Need cheap and convenient parking near the stadium? Rent a local resident's driveway and book Turf Moor Stadium parking with YourParkingSpace.co.uk
Directions
Get directions to Turf Moor from your house by entering your post code or location below:
By Train
The nearest / closest train stations to Burnley's Turf Moor Stadium are Burnley Central and Burnley Manchester Road. The two stations are situated in relatively close proximity to the stadium. Central is roughly a 20 minute walk away with Manchester Road being slightly closer, taking around 15 minutes.
There is a taxi rank at the train station or alternatively you can ring the following companies and pre-order taxis for your arrival: Ace Taxis: 01282 456350
The Games To See
Rivals - Blackburn Rovers, Preston, Bolton Wanderers, Blackpool