Peterborough United FC - Abax Stadium

Stadium Info
London Road is a traditional 'old' football ground. The official capacity is 14,319. It has terracing at one end behind the goal and a new all seated stand at the other. Running the length of the pitch is the Norwich and Peterborough stand. This can hold approximately 5,000 fans and is an impressive sight from inside the ground. Opposite this is the old main stand which does have a couple of supporting pillars obstructing your view of the action.
Away Fans
Visiting supporters are situated at one end of the Main Stand where just over 1,800 fans can be accommodated. Facilities within this stand aren't great but the view is ok. If you are seated towards the back of the stand you'll probably be sat on the wooden seats. Leg room is relatively tight so be aware when visiting.
Stadium Layout
London Road seating plan: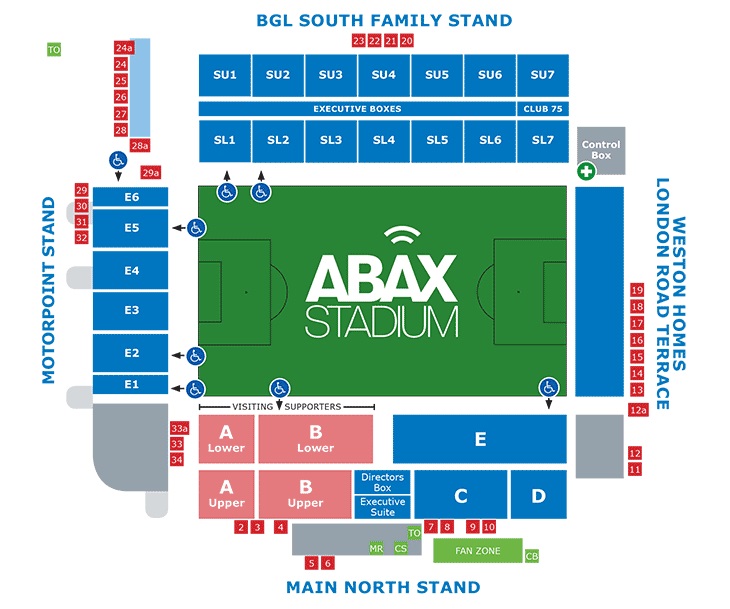 Where To Drink
The Cherry Tree on Oundle Road accepts home and away supporters. As an added advantage it's possible to park your car there for a small fee. The Peacock also welcomes away fans and has a wide selection of hot and cold drinks and food on offer. The pub can be found just past London road by the KFC restaurant.
There is a burger bar just outside the ground, a KFC opposite the ground and various food outlets along London Road to make sure you wont go hungry.
Parking
Due to the ground redevelopment, there is no public car parking at the stadium. However, there is parking for cars in the Pleasure Fair Meadow council and Railworld car parks opposite the stadium (adjacent to the Town bridge on Oundle Road). Street parking is available but you'll need to arrive very early to guarantee a good spot.
Need cheap and convenient parking near the stadium? Rent a local resident's driveway and book Abax Stadium parking with YourParkingSpace.co.uk

View Peterborough United FC in a larger map
Directions
Get directions to London Road from your house by entering your post code or location below:
By Train
The nearest / closest train station to Peterborough United's London Road Stadium is Peterborough. The railway station is around a 10-15 minute walk away.
From the train station to the stadium: turn right out of the station and into the long-stay car park. Go under the railway bridge and walk up the path or steps to the main road. Turn right, passing the Evening Telegraph on the left-hand side and Asda to the right. Turn right into the pedestrian shopping area (Bridge Street) and straight on over River Bridge and mini roundabout. The ground is on the left-hand side.
The Games To See
Rivals - Northampton, Cambridge