Stoke City FC - Bet365 Stadium
Stadium Info
The all-seater Bet365 Stadium holds 28,383 supporters, although this has been reduced to 27,500 due to segregation. The main West stand consists of two tiers of seating which house 7,357 spectators, plus all of the Stadiums corporate and media facilities. The L-shaped Boothen and East stands hold 6,006 and 8,789 people respectively whilst The South Stand, used mainly for away support, holds 4,996. All 3 stands are on one level and offer fantastic views.
Away Fans
Visiting supporters are housed in the separate Big AM South Stand at one end of the ground, where up to 4,800 supporters can be accommodated. The views and leg room are excellent from all areas. The concourse is adequate and there is a large selection of refreshments available. For any derby games or matches expecting trouble there is a sectioned off area to keep home and away fans apart.
Stadium Layout
Bet365 Stadium seating plan: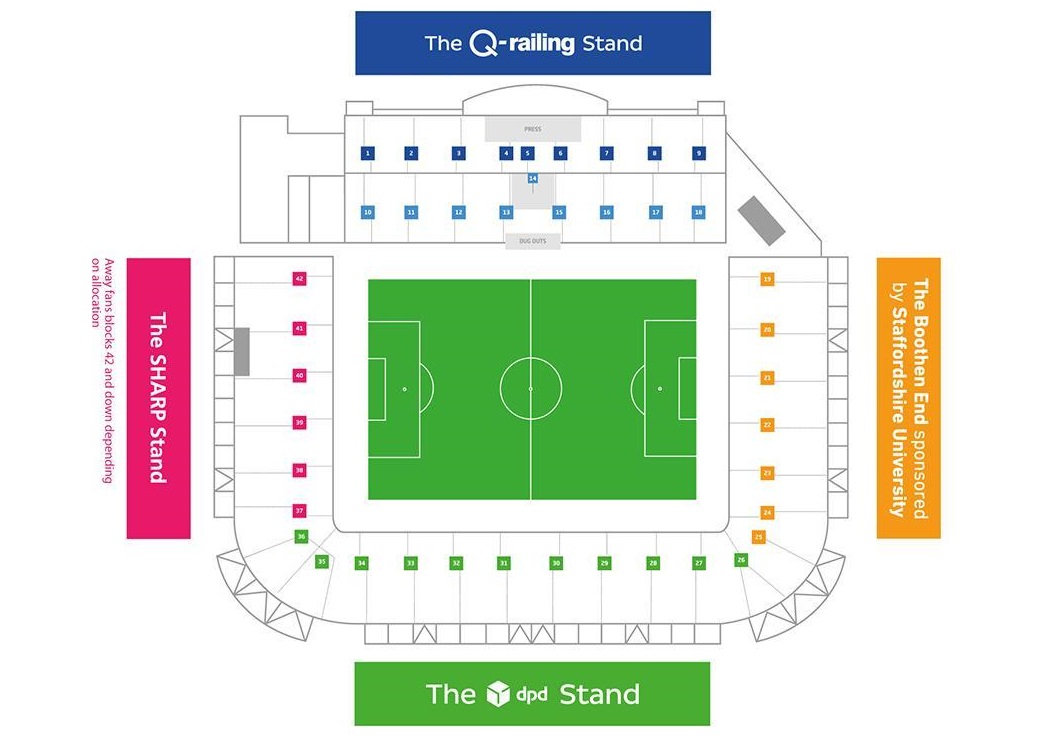 Where To Drink
There are very few pubs in the local vicinity but a recommended one is The Poachers Cottage which is located on the on A34 (Trentham ) and is approximately ¼ mile from the official club car park entrance. It's best to keep club colours covered around the stadium including in the local bars and even the town centre. Another option which is close to the ground is the Power League complex that also has a bar and allows away fans in. On top of that, it shows Sky sports and you can park your car there for £4.50. It's situated to the south of the stadium just of Sir Stanley Matthews Way.
Parking
Parking is available in the South stand car park at a cost of £5. Tickets must be purchased in advance from the Bet365 Stadium ticket office. You will need to keep your ticket in view as you enter and throughout the duration of the match. The South car park can be accessed from Trentham Road or from the A50 and the main slip road into the Stadium.
Need cheap and convenient parking near the stadium? Rent a local resident's driveway and book Bet365 Stadium parking with JustPark.com
Directions
Get directions to the Bet365 Stadium from your house by entering your post code or location below:
By Train
The nearest / closest train station to Stoke City's Bet365 Stadium is Stoke-on-Trent. The station is on the main line from Manchester to London and also has major links to Birmingham, Crewe and Derby.
Supporters arriving by train on match day can take a two-minute walk to Glebe Street in Stoke where buses run to the stadium at regular intervals. Turn right out of the station and take the next right to go under the bridge. Follow the road to the end and turn left, down a bank and into Glebe Street. Buses depart on the left hand side of the church.
The Games To See
Rivals - Port Vale