Swindon Town FC - County Ground

Stadium Info
The County Ground has a current capacity of 15,728, all-seated. The Don Rogers stand runs alongside the pitch and is the newest and smartest of all four stands offering an unobstructed view of the action. The Arkells stand opposite partially houses away fans and does have two large pillars which can impede your view if you're sitting towards the back. The town end behind the goal has many supporting pillars but is at least undercover where as the Adkins end is open to the elements.
Away Fans
Up to 1,200 visiting supporters can be accommodated and are situated in the Arkells Stand. If you sit at the back of this stand you may find a supporting pillar impairing your view of the action but other than that you'll generally be ok from here. Facilities and refreshments aren't up to much in this stand so I suggest you find somewhere to eat before or after the game. If there is a large number of supporters expected then the Stratton Bank End can be opened to house a further 2,100 fans but be aware that this end isn't under cover and therefore you'll need to remember to take a coat with a hood if visiting in winter.
Stadium Layout
County Ground seating plan: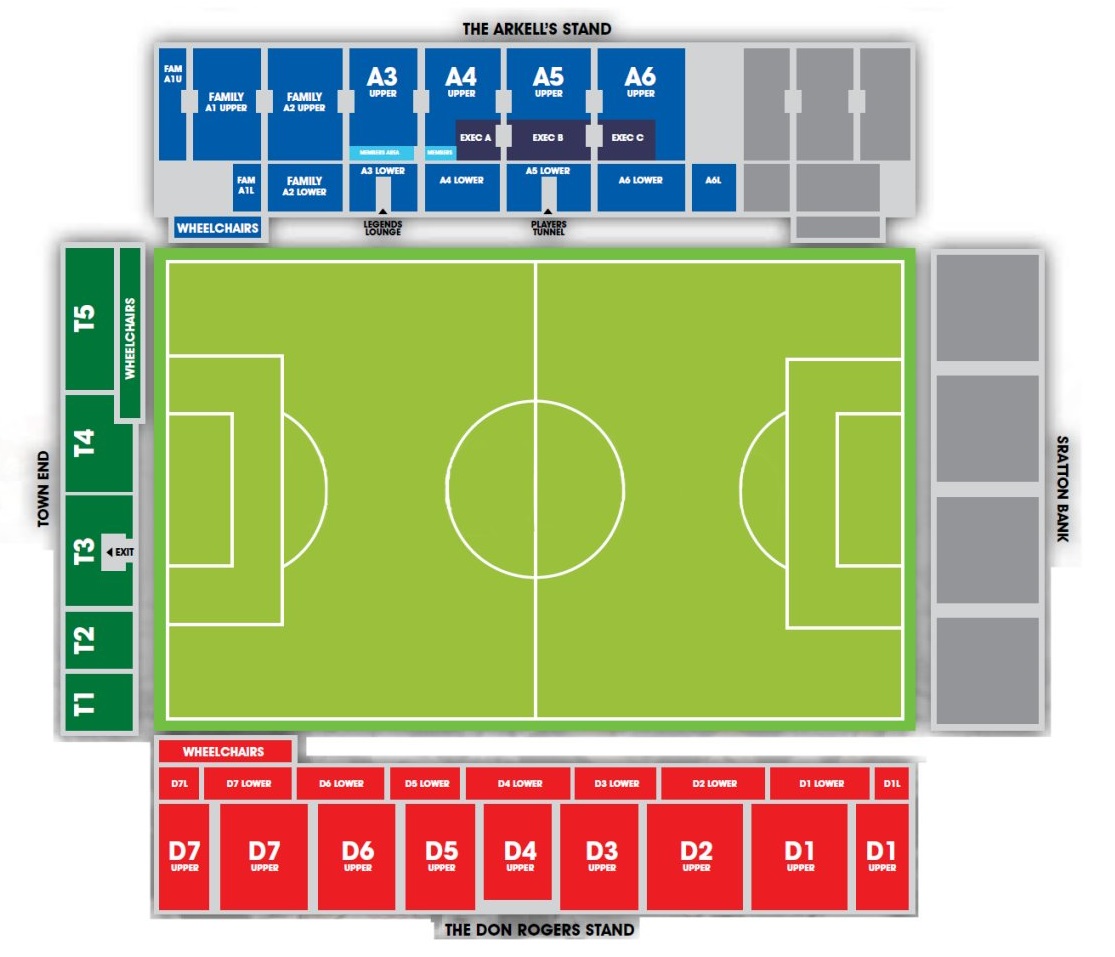 Where To Drink
The Merlin on Drove Road, near to the magic roundabout is a great pub for away fans offering an array of beers and cold food whilst showing the early kick off's on Sky Sports. Alternatively, situated on County Road is the cricket club. You're able to park up and leave the car here on non cricket match days and are even able to drink and eat in their bar. Not a bad bet for any home or away fan.
Parking
There is some street parking available in the surrounding roads but choose your spot carefully as car break in's are unfortunately quite a common theme in some areas, especially during evening games. There is a car park at the stadium but it's hugely over priced charging a whopping £10 per car. This is occasionally more expensive than the tickets to see the game...
Need cheap and convenient parking near the stadium? Rent a local resident's driveway and book County Ground parking with YourParkingSpace.co.uk
Directions
Get directions to County Ground from your house by entering your post code or location below:
By Train
The nearest / closest train station to Swindon Town's County Ground is Swindon. The railway station is appoximately three quarters of a mile away.
Directions for walking: Leave the station and immediately opposite is wellington Street. Walk down here and take the 1st left into Haydon St. After 100 yards take the right onto Corporation St and then at the roundabout take the left turn onto Broad Street. At the end of this road you'll join onto County Road. Turn right and the ground is a few yards further on the left.
The Games To See
Rivals - Reading, Bristol City, Bristol Rovers, Oxford, Gillingham