Aldershot Town FC - Recreation Ground

Stadium Info
The stadium is just off the main high street and hidden from sight by rows of houses and trees. It has a capacity of 7,100 which is more than enough for this level although only two thousand of which is seated. Any further progression up through the divisions would result in the need for re-development.
Away Fans
Visiting supporters are allocated the open terrace to the south side of the ground running towards the East Bank end and the East Bank end itself which equals 1,000 standing capacity and 250 seated, though if there's a chance of a bigger following, this area will be extended. Views from the East Bank are fairly good although there are a few supporting pillars.
Stadium Layout
Recreation Ground seating plan: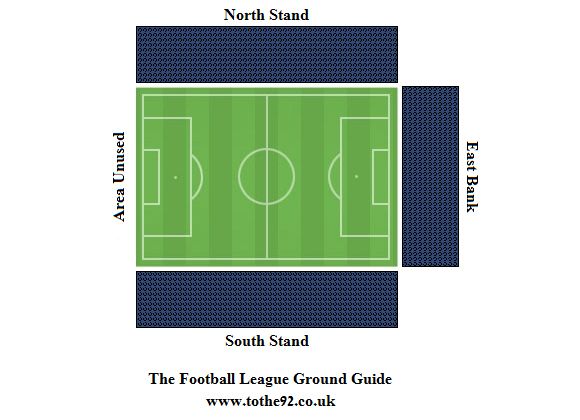 Where To Drink
There are a fair few pubs within easy walking distance of the ground. The La Fontaine pub at the top of Redan Hill is generally used by visiting supporters. All others are normally used by home fans (some of which appear a little rough looking!) but some such as The Crimea and the Red Lion also welcome visiting fans, though in all honesty the La Fontaine is as good as any other and about as handy as you could possibly get!
The town centre has all the usual fast-food joints, including KFC and McDonalds on Union Street, as well as a plethora of kebab shops and other take away outlets. If you're looking for food, try High Street, Victoria Road and Station Road.
Parking
There is limited car parking available in the Parsons Barracks car park (next to the Recreation Ground) priced at £1.00 for the whole day, but this is generally full by 1.45pm on Saturdays. For midweek fixtures the parking is usually taken by 6.30pm. The best option is the secure and equally cheaply priced pay and display car-parks less than a five minute walk away.

View Aldershot Town FC in a larger map
Directions
Get directions to the Recreation Ground from your house by entering your post code or location below:
By Train
The nearest / closest train station to Aldershot's Recreation Ground is surprisingly, Aldershot which is between a five and ten minute walk away and is well connected with trains running to/from London Waterloo (change at Woking or Guildford), Alton and Guildford. From London Waterloo, the journey with one change will take between 50 minutes (if you change at Woking) and just over an hour if you use Guildford and cost around £11.10 for the cheapest available return.
The Games To See
Rivals - Reading