Dagenham and Redbridge FC - Chigwell Construction Stadium

Stadium Info
Victoria Road (currently known as the Chigwell Construction Stadium, for sponsorship purposes) has a capacity in excess of 6,000. The old terraced away end behind the goal was demolished in the summer of 2009 and replaced with an all seated stand to comply with government standards. The total amount of seats now account for 2,200 heads within the stadium. The Bury Rd End stand is an open terrace and opposite is the newly built Traditional Builders Stand. The Main Stand is a small all seated stand approximately 8-10 rows deep.
Away Fans
Visiting supporters are situated in the newly built Traditional Builders Stand. The facilites, leg room and view of the action are excellent from here and up to 1,200 away fans can be catered for. Refreshments include all the usual suspects and are of a very good standard for very reasonable prices.
Stadium Layout
Victoria Road seating plan: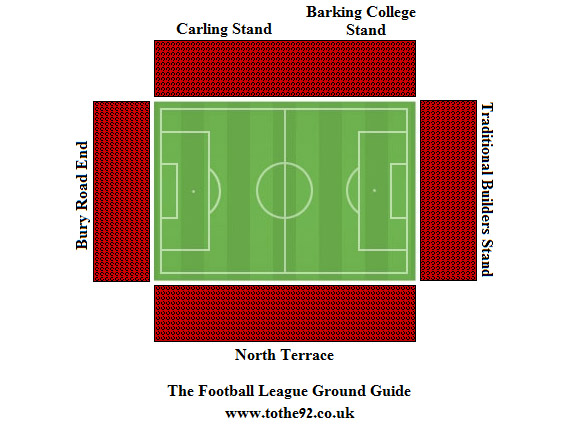 Where To Drink
There is a social club situated at the stadium which welcomes away fans for a very small fee. There's a large hall inside with a big screen showing Sky Sports so you can watch the early kick off's before going in to watch the game. They offer a selection of food and drinks and it's a very friendly environment so it's well worth a visit.
Parking
Parking is available along most roads surrounding the stadium. The main road leading to the stadium is restricted but all side roads are accessible. There is also a small amount of free parking available at the stadium itself. However, this needs to be booked in advance.

View Dagenham and Redbridge FC in a larger map
Directions
Get directions to Victoria Road from your house by entering your post code or location below:
By Train
The nearest / closest train station to Dagenham & Redbridge's London Borough of Barking and Dagenham Stadium is Dagenham Dock. Though this is just under 2 miles from the stadium so you may be better advised to jump on the tube.
By Tube
The nearest tube station is Dagenham East which can be found on the District Line. If visiting central London before going to the game be advised that the trip to the ground can take about 40 minutes. Once out of the tube station turn left, and the ground is approximately 5 minutes walk and is clearly sign posted.
The Games To See
Rivals - Leyton Orient, Southend, West Ham