Hartlepool United FC - Victoria Park

Stadium Info
Victoria Park has a capacity of just under 8,000 and is the smallest of all the northern football league grounds. The Town End Terrace is a standing area behind the south goal, it is usually the most vocal area of the ground. The Camerons Brewery Stand (formerly the Millhouse Stand) is an all seating stand with a terraced paddock and it is located at the west side of the ground. The Cyril Knowles Stand is a modern all seater stand that is located on the east of the ground. It also houses Hartlepool United's firm, the Blue Order. The Rink End is also an all-seater stand containing 961 seats, however this is the only stand containing some areas with an obscured view of the pitch, due to a number of supporting pillars.
Away Fans
Visiting supporters are situated in the rink end stand behind one of the goals. There's space here for just under 970 supporters although despite the numbers, a very good atmosphere can still be generated. Facilities are very good and leg room is adequate but there are a few supporting pillars that can impede your view. The hungry monkey bar sells a healthy array of burgers and pies.
Stadium Layout
Victoria Park seating plan: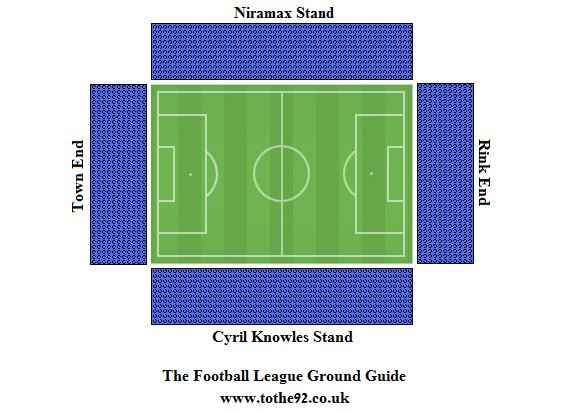 Where To Drink
The Corner Flag is the Hartlepool United supporters club and is situated on the corner of the Millhouse and the Rink End stands. Visiting supporters are welcome to join Pools fans before and after the game, though early arrival is advised as this is a predictably popular pre and post match venue. There are a few burger vans situated around the stadium but alternatively, the town centre, which is within walking distance, has a number of restaurants and fast food outlets.
Parking
Lots of parking is freely available in the fair sized car park at the stadium. If you arrive to late to find a space here there is plenty of street parking in the surrounding roads.

View Hartlepool United FC in a larger map
Directions
Get directions to the Victoria Park from your house by entering your post code or location below:
By Train
The nearest / closest train station to Hartlepool United's Victoria Park Stadium is Hartlepool and is just a stones throw away. It is served by trains from Newcastle and Sunderland (to the North), and Darlington (via Thornaby) from the South.
From Newcastle Upon Tyne there is an hourly service, with an approximate journey time of 43 minutes.
From Darlington the service is slightly more sporadic, and approximate journey times varying between 1hr and 1hr 15 mins.
The Games To See
Rivals - Darlington