Oldham Athletic FC - SportsDirect.com Park

Stadium Info
Boundary Park has an all-seated capacity of 13,500 since the completion of the North stand opposite the main stand. When the stadium was originally opened it could accommodate nearly 50,000 fans although the highest crowd ever recorded here is 47,671. The Chadderton Road and Rochdale Road end stands behind either goal are quite new builds and as such are very good places to view the action from. The Main Stand has a couple of supporting pillars toward the back and is slightly lacking in leg room. The North Stand is a very smart build with good leg room, unrestricted views and excellent facilities.
Away Fans
Visiting supporters are situated in the ZenOffice Stand behind one of the goals. A maximum of 1,600 fans can be catered for in this stand. Facilities are ok and the food is generally very good and also very well priced.
Stadium Layout
SportsDirect.com Park seating plan: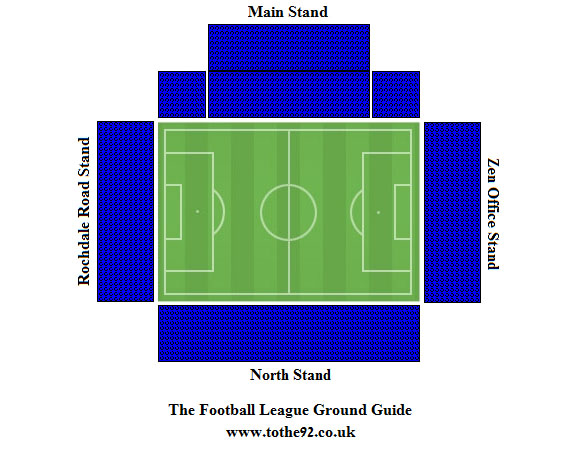 Where To Drink
There's numerous pubs within a close proximity and the general 'away fans pub' is the BlueBell, a small friendly little place which welcomes children and has a play area for them. It's just out of the Car Park and right and across the road. Also there is a few other pubs at the top of Sheepfoot Lane (The big road the opposite side of the big car park), if you walk up that hill and turn right you'll see the Old Grey Mare.
Parking
Parking is available in the large car park situated at the stadium. It comes at a cost of £5 per car which is very reasonable but I'd advise a quick escape after the game to ensure being able to leave the car park without serious delays. Street parking is very limited on match days as the area is generally coned off by police. There is street parking available if you're willing to walk 10-15 minutes into the ground but with the sizeable amount of spaces at Boundary Park, you don't need to.
Need cheap and convenient parking near the stadium? Rent a local resident's driveway and book Boundary Park Stadium parking with YourParkingSpace.co.uk
Directions
Get directions to SportsDirect.com Park from your house by entering your post code or location below:
By Train
The nearest / closest train station to Oldham Athletic's SportsDirect.com Park Stadium is Oldham Werneth. The Railway station is around a 15 minute walk away from the ground.
Turn left right when you come out of the station and walk until you come to a Tesco's then left at the Dual Carriage way where you will see SportsDirect.com Park on your right.
The Games To See
Rivals - Man Utd, Man City, Stockport