Scunthorpe United FC - Glanford Park

Stadium Info
Scunthorpe United moved to Glanford Park in 1988 making it the first new football league ground to be built since the Second World War. The more vociferous home fans tend to stand behind the goal opposite the away fans and this stand is the only terracing in the stadium. Both stands running alongside the pitch offer good views of the action and are all seated but all have many supporting pillars which can and probably will obstruct your view. All 4 corners are filled which helps generate atmosphere.
Away Fans
Visiting supporters are situated in the south stand behind one of the goals where up to 1,650 fans can be accommodated. There are a few supporting pillars in here that can obstruct your view but if you avoid those it's generally a very good little ground that generates a good atmosphere to be part of. Facilities are ok and refreshments are very reasonably priced with hot dogs, burgers, bacon sandwiches and pies all under £2.20.
Stadium Layout
Glanford Park seating plan: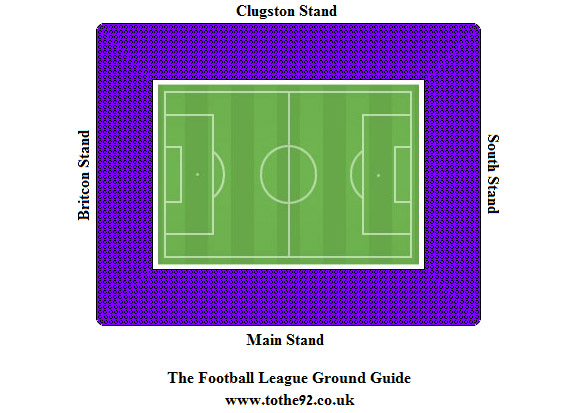 Where To Drink
Near the ground, the Berkeley is open to visiting fans. In the run up to kick off you'll get a good amount of banter between home and away fans. To find it, follow the main road towards Scunthorpe past the stadium and the pub is on the left as you reach the first roundabout.
The Old Farmhouse is another option and is situated on the Doncaster Road just off the M181, near to the ground. It offers a choice of lagers and beers and has a decent set of facilities such as a pool table, sky TV, bar food and a restaurant. Away fans are also welcome.
Parking
The stadium is built in the middle of a residential area and although there is plenty of street parking if you arrive early, there is a large car park at the stadium itself charging £3 per vehicle. My advice however, is to arrive early and try and get away early. This avoids parking far away before the game and also avoids a long queue trying to escape afterwards.

View Scunthorpe United FC in a larger map
Directions
Get directions to Glanford Park from your house by entering your post code or location below:
By Train
The nearest / closest train station to Scunthorpe United's Glanford Park Stadium is Scunthorpe. The railway station is around two miles away, so a taxi might be the best option to reach the ground from here.
If you do fancy a walk, here's how to get there: Exit the station and turn left onto Station Rd. After a 200 or so yards the road becomes Church Lane. Continue to walk along here for just under a mile. Once you reach the T junction at the end turn right onto Kingsway/A18 and follow the road for another mile (going straight across one roundabout) all the way up to the stadium.
The Games To See
Rivals - Lincoln, Hull, Grimsby, Doncaster