York City FC - Bootham Crescent

Stadium Info
Bootham Crescent is a traditional old style lower league football stadium and oozes character. Either side of the pitch are the Main Stand and the Popular Side. Both are all seated affairs although the end of the Popular side has a very small section of terracing. There are 5 pillars across the front of this stand and 3 across the front of the Main stand. If you manage to avoid seats with views restricted by these, you'll have a lovely view of the action. The Grosvenor Stand is an uncovered terraced stand behind the goal and houses the away fans and opposite this is the David Longhurst stand. This is a terraced stand but is undercover and is generally where the best atmosphere can be found.
Away Fans
Up to 2,000 away supporters can be accommodated here and they are allocated the Grosvenor Road terrace. This is situated behind one of the goals and is the only area of the ground without a roof. However, for an additional fee you can be one of up to 200 away fans that get to sit in the end section of the Popular Side.
Stadium Layout
Bootham Crescent seating plan: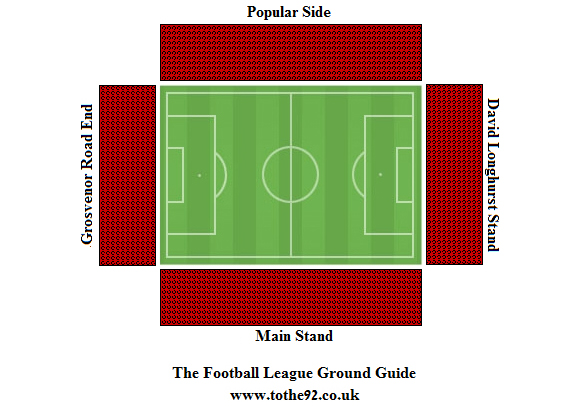 Where To Drink
Ideally located at the ground, on the corner of Grosvenor Road and Newborough Street, there is a supporters bar which generally lets away fans in. I always advise to keep club colours covered just in case however. It offers a range of hot and cold drinks and a small amount of food as well as the usual chocolate and crisp style snacks. Surrounding the ground there are 1 or 2 pubs dotted around and a fish and chip shop is close by on Gillygate.
Parking
The stadium is situated in the middle of a residential area and parking isn't usually a problem although you will need to be aware and avoid the residents only sections. A good bet is either Horner Street or Garth Terrace off of Burton Stone Lane. Most roads close to or off of these are ok to park in.

View York City FC in a larger map
Directions
Get directions to Bootham Crescent from your house by entering your post code or location below:
By Train
The nearest / closest train station to York City's Bootham Crescent Stadium is York. There is a rather lengthy walk from the station to the ground, however. To reach the ground, take a left out of the station onto Station Road and follow the road round and over the bridge. The road becomes Museum Street as you come off the bridge and you'll need to take the 3rd left onto St Leonard's Place. Follow this road (which becomes the A19) for around 5-10 minutes until you see Bootham Crescent turning on the right. The walk will take you past a large number of pubs to help pass the time!
Alternatively, jump in a cab. This will set you back around £8.
The Games To See
Rivals - Darlington, Doncaster